Summary + Problem Statement
Students are having trouble identifying ways to develop their skills in social impact across university silos. We're creating a tool to put forward a common definition of impact leadership and to help students and their advisors navigate the disparate landscape.
Students lack clarity and purpose in pursuing an education & career in social impact. They are unable to effectively develop the skills for social impact leadership due to confusion around what those key skills are and how to navigate the many disparate opportunities at Georgetown University.
Solution/Idea
The Social Impact Navigator (1) defines social impact leadership skills, (2) provides students with a self-diagnostic to identify strengths and areas for development, and (3) maps social impact opportunities to specific skills for development, enabling students to create an action plan for growth. Learn more about the Navigator in this short video, featuring two of our Student Analysts. 
WHAT IS A SOCIAL IMPACT LEADER?
Here at The Beeck Center, we conceptualize social impact as examining how a current system affects people, and focus on how to improve that impact through a systems-level approach.
Social Impact Leaders at The Beeck Center are committed to finding effective solutions in service of the common good. They think and act differently to understand and address complex problems affecting communities around the globe. Social Impact Leaders stay grounded and have the confidence to embrace uncertainty. Why? They know that they have the skills, knowledge, resources, and support systems necessary to take risks and challenge the status-quo. Social Impact Leaders practice constant discernment to ensure that each action they take is guided by their core values. Their north star is making a positive, lasting impact on our world.
---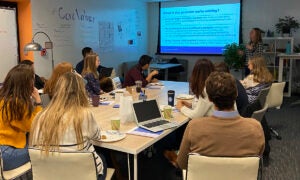 ---
THE SKILLSET
It is possible to be a 21st Century Social Impact Leader in a nontraditional leadership role. You do not have to be the CEO of a company to create positive social change! Social impact leaders exist everywhere – in all positions and in a variety of industries and professions. As such, the number of skills you can choose to develop while at Georgetown are endless! Whether you want to be an engineer, an artist, a politician or a teacher, the unique skills associated with your chosen profession can all be used to serve the common good. While you embark on this exciting journey to develop those skills through your academic coursework, we invite you to join us at the Beeck Center to develop another important set of skills that we find to be essential, no matter what issues you hope to work on throughout your career. Explore the six skill-areas here. 
THE NAVIGATOR
Having defined social impact leadership and the six skill-areas, we now have our "north star" towards which to orient our social impact journeys. Understanding that each learner is different, we invite you, as a future social impact leader, to take our self-diagnostic to better understand your strengths and areas for development. This quick diagnostic can serve as a complement to one of the several personality and strength-finder tools already available, such as Myers-Briggs, 16 Personalities, and Strengthsfinder. We strongly encourage you to explore these different diagnostic tools and to revisit these tools over time, as you learn and evolve individually. In striving for a better self-awareness and understanding of yourself, you'll be able to achieve a higher level of intentionality in everything that you do, including your social impact journey. 
With a deeper understanding of yourself, it's now time to map out your journey. The Action Plan tool will help you create a plan that is intentional. You can lean into a strength or an area for development. In some cases, you may be able to work on both within the same program.  Use the action plan tool in conjunction with the Beeck Center program listings – we've mapped our programs to the six skill-areas for social impact leadership, providing you with the power of information as you create your personalized plan.
Implications
INVITING COLLABORATORS
The Social Impact Navigator welcomes collaborators offering curricular and co-curricular learning opportunities to students. We would be happy to include your programming in listing the social impact opportunities to which students can map their journey, increasing the number of students who engage with your school, department, center, or initiative. More importantly, the students who do engage with our partners bring a high level of intentionality, stemming from their greater self-awareness and understanding of their strengths, aras for development, and where they want to go (see: the six skill-areas of the Social Impact Navigator). 
If you're interested in collaborating, please email the Director of Student Engagement: Matthew Fortier (Matthew.Fortier@Georgetown.edu). To help facilitate our collaboration, please review the Social Impact Navigator and send us your feedback by completing this survey. We look forward to discussing our collaboration further!
ADDITIONAL RESOURCES
In helping you think about your social impact journey, we are compiling a running list of resources, including articles and tools. If you have resources that you would like to share, please contact us (see above).