Events
Join us in building a community to shift paradigms.
February 4, 2020
Measuring Social Change: A Conversation with Author Alnoor Ebrahim
How do you measure progress towards worthy goals like ending homelessness? What results can nonprofits and social enterprises reasonably measure and take credit for? How can measurement be used strategically? Join Professor Alnoor Ebrahim and Miriam's Kitchen CEO Scott Schenkelberg for a lively discussion moderated by Beeck Center Executive Director Nate Wong on measuring what matters.
Sign-in and networking begin at 4:00 p.m. The conversation begins at 4:30 p.m. and will be followed by a book signing at 5:30pm. Light refreshments will be provided.
Measuring Social Change is sponsored in part by McCourt School of Public Policy, Center for Public and Nonprofit Leadership, Beeck Center, Georgetown College, and the Social Responsibility Network (SRN) of Georgetown College.
View Event
March 31, 2020
Democracy and the Next American Economy
"[Author Henry Ramos sees] this moment as a pivotal turning point in the American journey in which political polarization, income and wealth disparity and public violence—much of which is race related—threaten the very essence and integrity of our democracy and economy.
Ramos examines the policies that have contributed to America's decline, including those that have led to the concentration of great wealth in the hands of a few while condemning many to systemic poverty and inequality. Current economic and social trends, he stresses, are unsustainable and call for organized, concerted action by people of conscience and those affected.
Ultimately, Ramos provides a roadmap for the future so the United States can continue to provide opportunities for its people and serve again as a leader in the international community. "
Join the Beeck Center and author Henry Ramos for a discussion of his latest work and the issues of Fair Finance that lay within.
View Event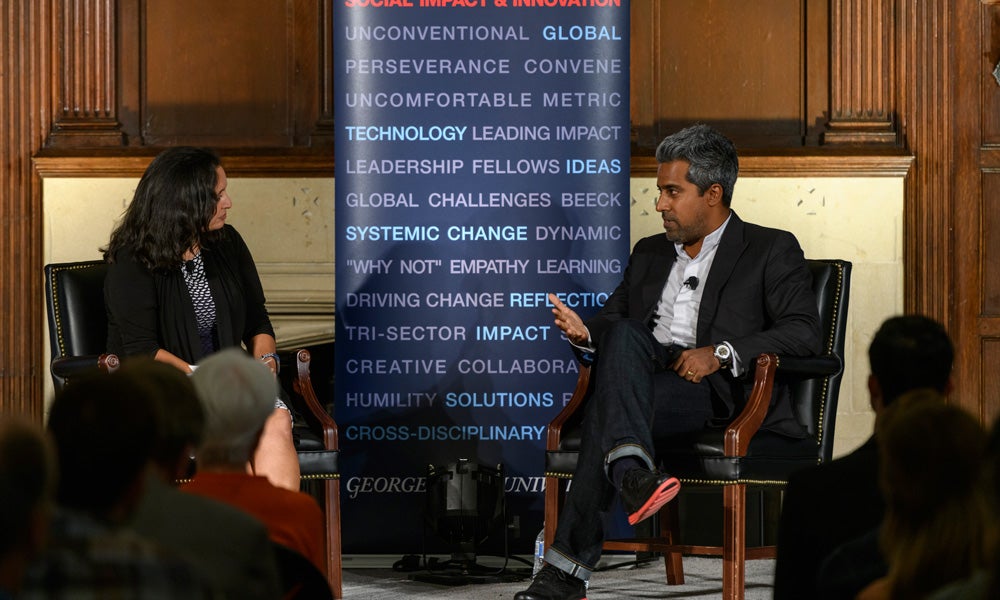 September 2018
Winners Take All
In September 2018, the Beeck Center hosted author Anand Giridharadas to discuss his new book Winners Take All: The Elite Charade of Changing the World. Executive Director Sonal Shah led the conversation and invited students to join the author on stage to ask questions as well. This was a controversial topic touching on philanthropy, social good, policy, and wealth.