October 29, 2020
Building a Better Social Safety Net
October 30, 2020 – By Sara Soka
Millions of Americans rely on the social safety net to provide basic economic, food, and housing support when experiencing hardship. When COVID-19 killed millions of jobs and drove benefit demand to unprecedented levels, the often-difficult steps to receiving benefits — submitting documents about your income and household at a government office or by mail, waiting for a decision on your application, and needing to recertify your eligibility often if your situation doesn't improve quickly — got even harder. Applicants have been dogged by outdated, manual systems for years, and they can be especially tough for people in precarious situations to maneuver. In March, Simon Tung told Reuters his attempts to get unemployment payments were a struggle.
"He called hundreds of times. When he did get through, sometimes he would get a message saying the system was overwhelmed and to call back. On April 2, he received his first direct deposit from New York state – for $0."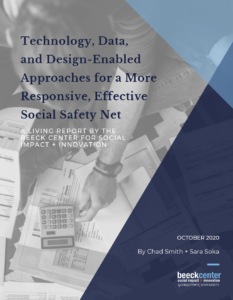 The good news is that there are successful examples of government bringing social safety net benefit delivery up to contemporary standards. In the last decade, a small but growing number of local, state, and federal government agencies have worked with nonprofits and public benefit corporations to make many steps in the benefit application process easier. The Beeck Center's latest report, Technology, Data, and Design-Enabled Approaches for a More Responsive, Effective Social Safety Net examines tools and methods that are working, presenting opportunities for scale to reach more Americans in need. Government executives, policymakers, and philanthropic organizations can use the examples and case studies to leverage the renewed interest in improving the functionality of these systems in the wake of COVID-19. With the likely passage of new stimulus legislation after the 2020 general election, this is an opportunity for a large federal investment to improve the social safety net, and the chance to learn from the people who have been working in this field for years.
For instance, the nonprofit design studio Civilla worked with benefit applicants and the Michigan Department of Health and Human Services to combine five benefit applications into one. The new application is 80% shorter and takes half the time to process. It's also available in a mobile-friendly online format allowing users to manage changes to their benefits, upload documents and photos, and receive text notifications.
We started working on this project in February 2020, just prior to the onset of the pandemic. The report's recommendations are overarching and tactical, drawn from case studies and white papers from leading organizations in this field including Code for America, Benefits Data Trust, and Nava, interviews with practitioners, and news reports. The report focuses on needs with particular resonance now, when the pandemic has tried the capacity of existing benefit systems and racial justice continues to be a primary concern for the nation. Reports like this are only as useful as they are actionable, and this one offers the chance to apply the hard-earned insights of leaders in the field, who we'll continue to partner with to implement the lessons we've uncovered and scale what works, making these systems work better for everyone.