June 5, 2019
Calling All Corporates: You Need to Make "Plan B" Your "A Game"
June 5, 2019 | Sheila Herrling
Earlier this year, BlackRock CEO Larry Fink, delivered a message that rattled the financial world – "society is increasingly looking to companies, both public and private, to address pressing social and economic issues" and if companies want to continue to receive investment from BlackRock they will need "a clear embodiment of your company's purpose in your business model and corporate strategy." This is the world's largest asset management company — $6.5 trillion! — saying it sees the future. And that the companies of the future will be those that very intentionally embed social impact into their business operations.
These companies of the future will capture and keep the market because their CEOs and brands will be very clearly identified with a social value proposition and a social contract with their employees, their consumers and society writ large. Back to Larry Fink – "purpose is not a mere tagline or marketing campaign; it is a company's fundamental reason for being – what it does every day to create value for its stakeholders. Purpose is not the sole pursuit of profits but the animating force for achieving them."
So, for all you CEOs who claim profit is your purpose, I don't see you winning the long game. You need a "Plan B". "Plan B "is a benefit plan, a clearly articulated strategy through which your company will aim to drive social returns alongside financial ones. There are a host of innovative companies moving beyond traditional CSR programs and integrating the idea of corporate social impact directly into their business operations. And this change is paying dividends.
For those interested in devising a Plan B, consider a 4-step approach:
Step 1: Know the Playing Field. There are a variety of ways corporates can enter the social impact field. I like to think of it as a spectrum. On one end of the spectrum are companies that operate a traditional CSR unit; it is typically a corporate foundation that provides grant funding to a variety of good causes that may or may not be well related to the business line of the company. I'm not going to name you; you know who you are. On the other end of the spectrum are Benefit Corporations and Certified B Corporations (B Corps); B Corps are companies that meet the highest standards of verified social impact performance, transparency and accountability to balance profit and purpose. Patagonia, Natura, Laureate Education and Method are well-known B Corps; Cipla, Elvis & Kresse, Triodos Bank, and New Belgium Brewing and are less well-known, ought-to-be-known, examples of this class.
Between those ends of the spectrum, there are a number of different ways corporate CEO's can enter the playing the field with a commitment to put the power of business to work in driving social impact at scale. Consider these options, as you seek to put your team on, and move up, the field:
Do no harm. Recognizing your company's impact on people and the planet and actively doing something about managing any negative impact is a solid get-on-the-playing field move. For example, Microsoft, Adidas and Sony partnered with the United Nations on a commitment and campaign to urge other companies to measure their climate footprint, reduce greenhouse gas emissions, and offset the remainder of their remissions. Or how about the power move (no pun intended) by Exxon Mobil CEO Darren Woods on his first day on the job issuing a blog committing to manage the dual challenge of meeting the needs of an increased demand for energy (Exxon Mobil's business) while also mitigating climate change (he advocates for a uniform price of carbon applied consistently over the economy)?
Be a statesman. With diminished faith in politics and government, people are increasingly looking to CEOs to take public stances on major social policy issues and to use their power to shape the context for social impact. Customers increasingly want to understand the social impact of the products they buy and trust the person at the helm of the company they buy from. And employees want to work at companies with social values. Take a page from Dick's Sporting Goods, the country's largest sporting goods retailer, with 850 stores across the country.  CEO Edward Stack took a stand on assault rifle bans after the Parkland shooting and Dick's not only stopped carrying assault rifles but also changed its minimum age for all gun sales to twenty-one. While earnings took a hit, it's unclear what proportion was related to the policy change and Dick's is blowing out its baseball line in response. Or a page from Salesforce CEO Marc Benioff who, after discovering his female employees were paid less than their male counterparts, spent $6 million to close the gender-equity pay gap. And, most recently, the CEOs of seven women's health companies who spoke out against the wave of state anti-abortion bills and challenged corporate America to join their campaign.
Invest in people and place. Each year, we have more proof points that embedding social impact into the business model drives profits. More evidence that consumers are willing to align their purchasing power with their social missions. Higher brand loyalty and employee retention rates in purpose-driven companies. Continued pressure by the Millennial workforce expecting their employers to advance society. And more attention paid to investing in underleveraged communities. Intentionality around investing in your workforce and the communities in which you work and serve become essential plays along the social impact spectrum. Costco, Ben & Jerry's, and In-N-Out are among a group of companies that pay their workers a living wage  while debunking the myth that it hurts their bottom line. Levi Strauss' Worker Wellbeing initiative provides financial literacy, health and education benefits to its factory workers around the world. And Whole Foods, as part of Detroit's Future Cities Initiative, took a leap of faith putting a store in midtown, a green food desert, employed Detroiters and exceeded its two-year revenue projections in the first three months. And Northrop Grumman, recognizing the benefits of a more diverse, local employee base, partnered with the National Security Agency in launching the Advanced Cybersecurity Experience for Students (ACES) program at the University of Maryland. Fifty-three percent of enrolled students are women and forty percent are students of color. The program has benefitted UMD with retention rates over ninety percent, and built the depth and breadth of cybersecurity professionals Northrop Grumman needs to grow their business.
Innovate across the supply chain. Business performance and public opinion have driven most companies to understand and invest in strong, sustainable supply chain management. Not doing so puts most companies at great risk and doing it well will increasingly be required by customers, investors and regulators. MVPs can be found on the annual Gartner Supply Chain Top 25 list. Nike – once known more for its sweatshop practices – now makes the list regularly after seeing that an embedded workers' rights impact strategy was a driver of productivity and profits. Mars is one of the longest playing teams committed to sustainable supply chain management – well before it became either a social movement or a business imperative. And Walmart deserves a shout-out for its intentionality to diversifying its supply chain through its Supplier Diversity Program that ensures that minority, woman, veteran, and LGBT-owned companies have equal access to supplier partnerships.
Acquire, merge with or invest in a benefit company. Acquisitions and mergers can onboard ideas and develop relationships in new spaces, paving the way for fuller integration of social impact into your core business operations. Campbell Soup Company acquired Bolthouse Farms, Plum Organics, Kelsen Group and Garden Fresh Gourmet, marking a shift in focus to ingredient transparency, healthier low-cost offerings and organic baby food. This values-based partnership proved to be a profitable one, with the largely untapped organic baby food market rapidly expanding. Danone's strategy has led it to acquire companies in multiple new countries and markets, better aligning their products with their markets. In particular, Danone's purchase of WhiteWave made Danone the world's biggest producer of organic foods while also injecting plant-based nutrition products into to its other four global categories. "DanoneWave" went on to become the biggest public benefit corporation in the U.S.
If M&A is too far down the field, you could also consider creating a corporate fund that invests in social enterprises. This strategy can onboard new ideas, talent, and product lines. And can more strategically align your corporate giving with your business operations while also getting returns on that investment (yes, you can get financial returns through impact investing!). Patagonia's Tin Shed Ventures leads the pack and is one of many components of Patagonia's fully embedded social impact strategy. Shell Ventures, established in 1996, is one of the first corporate venture funds in the oil and gas industry. And if an on-balance sheet, operated-by-the corporation fund is a bridge too far, consider investing in a third-party fund. JPMorgan has used this tool in NatureVest (alongside the Nature Conservancy) and more recently in its Entrepreneurs of Color Fund.
Step 2: Study the competition. Now that you have a better understanding of the playing field, deepen your knowledge on where the other players are on the field. There are many more examples of companies embedding social impact into their business operations. Invest time and talent in learning how they are building and fielding their teams and whether their strategies are working. Find ways to gather alongside other CEOs who have already embarked on the journey or want to and don't' know how – Aspen Institute's Business and Society Program, the Association of Corporate Citizenship Professionals, Fortune/Time Global Forum, and PathNorth to name a few. Or push the groups you're already part of to add a corporate social impact track to its platform — I'm looking at you, Business Roundtable.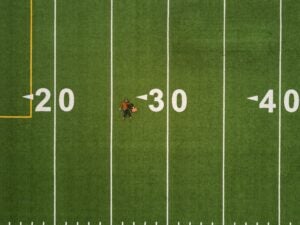 Step 3: Claim your turf. Decide what social impact strategy is right for your company; declare it publicly; measure it; and report it to your stakeholders just as you do your financial returns. The use of the term stakeholder here is important. It represents an intentional shift from a shareholder primacy approach that maximizes short-term profit and returns to an accountability structure that is responsive to a broader group of those who can affect or be affected by the achievement of the company's objectives. CEOs become accountable not only to their shareholders but also to their employees, consumers and society writ large. My only real counsel here is to make it authentic. It's too easy to see through PR gimmicks and insincere attempts.
Step 4: Go for extra points. The real gamechanger play is to fully embrace and one-hundred percent embed a diversity, equity and inclusion (DEI) strategy into your business operation. Everything I would want to say is better articulated by Ryan Honeyman and Dr. Tiffany Jana in the B Corp Handbook Second Edition, summed up with this quote: "What I have learned over the past few years is that there is no such thing as a conversation about DEI and a separate conversation about business as a force for good. They are the same conversation. Siloing DEI into something separate is one of the main barriers facing our movement to create a more equitable society." It should be required reading for all CEOs. And if you want a 'Hail Mary," how about leading the charge to have corporates pay fair a tax burden, and stop the burden's fall on individuals – this just could be the greatest gift to improving everyday people's lives at a grand scale; revenue back into the system to invest in schools, healthcare and new business formation.
We are at an inflection point where the stakes are high to reimagine how capitalism and democracy work for everyone. Milton Friedman's notion that the only social responsibility of business is to maximize profit is increasingly rejected by many, including investors, philanthropists, business leaders, policymakers, and perhaps most notably Millennials, who will represent the future workforce and consumers. People want to buy from, work for, invest in, and donate to companies that identify as social enterprises. Corporate CEOs stand poised to seize the greatest opportunity of their lifetime to deliver both greater financial returns and social returns at scale that could, quite literally, make the world a better, more equitable place.