September 25, 2020
Don't Get Above Your Raising: Leadership Lessons From An Appalachian Changemaker
Shannon Blevins has often been recruited for positions outside Southwest Virginia, where she grew up and is rearing her own family. Blevins, the Associate Vice Chancellor, Economic Development & Engagement at UVA Wise, has always said no. She researches the other offers, but "I can never check the box of the heart," she says.
Instead, she is turning UVA Wise, a small rural institution with about 2,000 students, into a nationally recognized economic development actor (last year, Forbes and Sorensen Impact Center recognized one of its projects for enabling opportunity fund investments.) In an interview, she listed some of the rules she lives by to collaborate with many stakeholders and government agencies active in the central region of Appalachia. Some initiatives can move slowly, and many of the players stay the same. UVA Wise works across states, through Virginia's higher education system and with regional and private sector actors.
You can learn more about her work in our profile, UVA Wise and Entrepreneurship in Appalachian Virginia, but here are some other words of wisdom she passes on to both students and members of the community.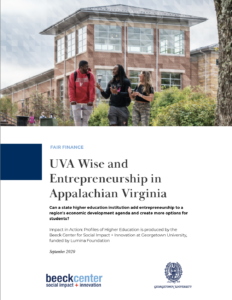 A 'no' for me does not burn a bridge. I look at it as just 'not yet.'

Don't hold grudges. Even if someone is late to engage with you on a project, make room for them at the table.

If you get something started, but there's a partner that's better suited, step aside.

You have to continuously remind yourself, you can't be married to your programs.

Don't have all the answers. Somebody in the room, other than you, has the answer.

Be intentional about developing the norms of the group, and "don't ostracize folks that are territorial."

Don't get above your raising. No one group could do those projects on their own. It is messy work. It is messy, messy work, and it can be emotionally draining.