June 29, 2020
Four Ways State Government Digital Service Teams Can Support the COVID-19 Response
June 29, 2020 – By Conor Carroll and Giuseppe Morgana
COVID-19 has made the work of government agencies more critical than ever. States are fostering greater inter-department collaboration, innovating with the public, and ensuring their services are accessible to people in need. 
Digital service teams are partnering closely with experts across the government to accelerate this work. The Beeck Center for Social Impact + Innovation at Georgetown University launched a research project on these teams to learn from and share their approaches to implementing innovative methods. The State of New Jersey's Office of Innovation is a partner in this project. The team's work has informed this list of four important things to keep in mind for a faster, more coordinated COVID-19 response across government (whether or not your state has a formal digital service team).
#1: Design people-centered platforms for sharing information with the public
The COVID-19 crisis highlights the importance of our government's communication with the public. As policies frequently change and impact people's daily lives in unprecedented ways, widespread public compliance with COVID-19 precautions is made possible by clear and broadly-accessible public information. The Office of Innovation focused on this imperative early on, and prioritized collaborating across government, and with private sector and non-profit partners to develop the tools needed to connect New Jerseyans with consistent, plain-language information about COVID-19.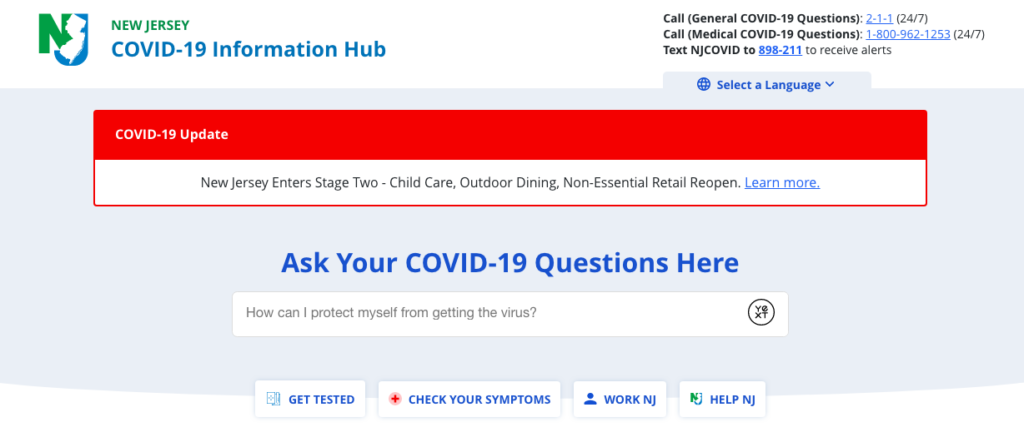 A parallel effort, in collaboration with the Federation of American Scientists (FAS), led to the creation of a user-friendly Q&A tool providing evidence-based information about COVID-19. This information was later integrated directly on New Jersey's main COVID-19 Information Hub, and also made accessible to other government websites. Through a partnership with Yext, a cloud-based search provider which built the Information Hub with New Jersey, users are connected with the most relevant answers across these different sources via natural language search terms. To ensure the State's websites reflected the latest policy updates, the Office of Innovation worked with the governor's office and various other agencies to make the constant flow of updated information useful for the general public. Team members translated executive orders from complex "legalese" into easily-understandable answers to common questions, made content available in Spanish, and studied search analytics to determine which information to feature based on user demand. These content teams were able to coordinate effectively thanks to existing relationships from previous cross-agency projects catalyzed by the Office of Innovation.
This approach provided a great benefit to New Jersey as State employees focused on keeping State-specific information accurate and up-to-date, while also seamlessly providing fact-checked general information about COVID-19 directly on the site, powered by FAS through Ask a Scientist.
---
Translating an executive order to clear information for residents on covid19.nj.gov
Executive Order 107 mandated the closure of non-essential businesses. Examples of essential businesses could be found in the text of the order.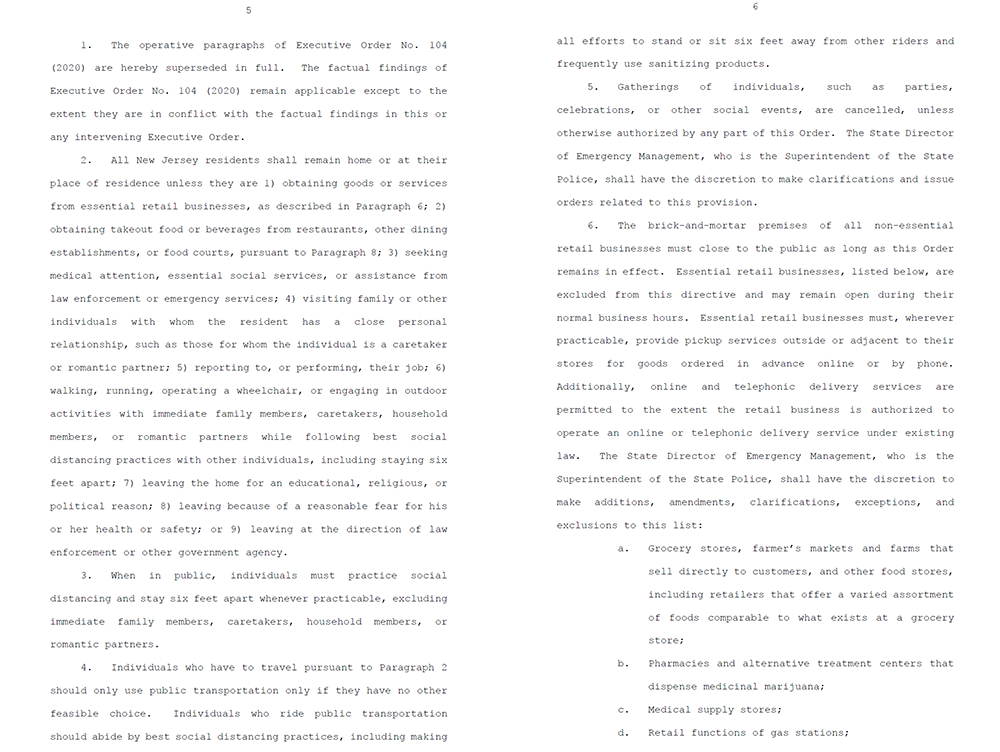 The executive order was translated into a FAQ, easily searchable via covid19.nj.gov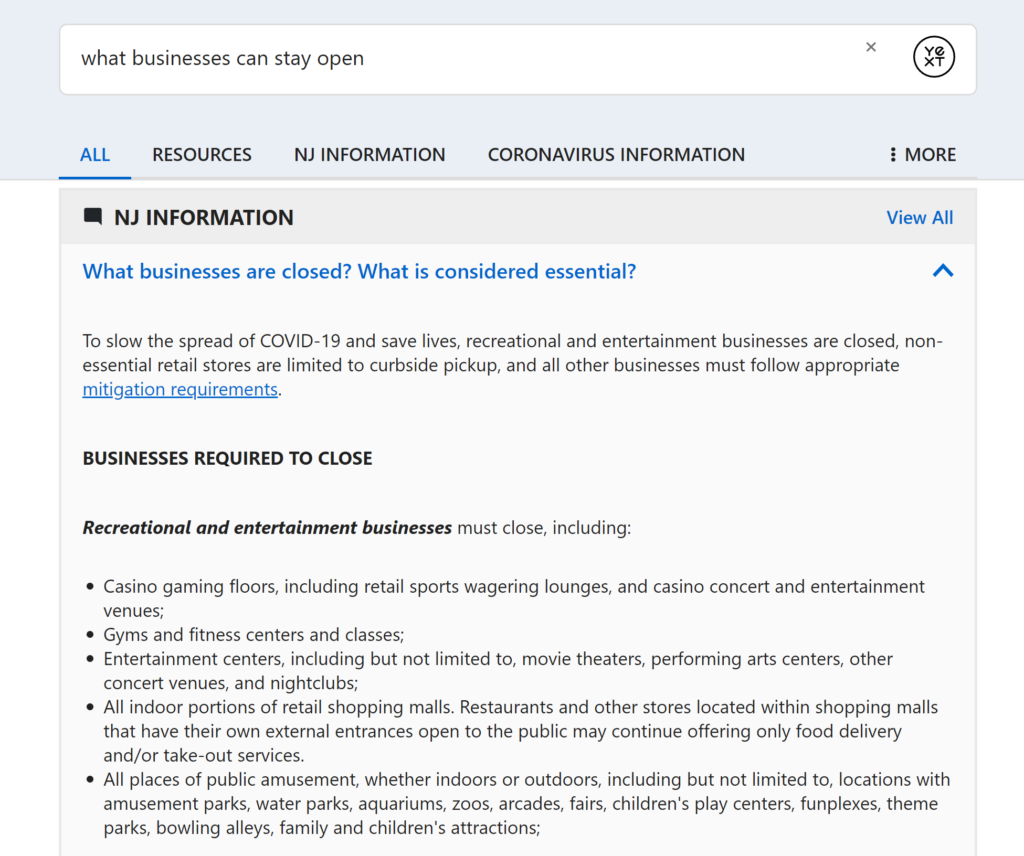 The detailed information was translated into easy-to-understand responses, providing users immediate answers and enabling New Jersey to get the most accurate, current guidance directly to the public. 
---
#2: Identify and partner with external experts who can bring unique skills to augment internal capacity 
Unprecedented demand for public services and supplies, such as personal protective equipment (PPE), has put significant strain on existing IT and supply chain systems, requiring immediate responses. Traditional government processes for adopting new technologies and hiring new talent may not be designed for the urgency of these issues. But in this crisis environment, additional channels of support are available to augment and expand the capacity and capabilities of the public sector. 
The New Jersey team recognized the urgency of technology and supply chain shortfalls, and are addressing them with the support of skilled volunteers. Volunteers from the U.S. Digital Response, the national effort to provide data and digital support to all levels of U.S. government, were critical to developing the State's Small Business Emergency Assistance Eligibility Wizard. Additionally, the innovation team worked closely with the New Jersey Economic Development Authority and Rutgers' Business School to recruit a team of volunteer supply chain experts from the private sector to perform a rapid assessment of the state's supply chain situation and recommend industry-proven approaches to pilot and improve the State's ability to make proactive, data-driven decisions about purchasing supplies. A team from the United States Digital Service also recently joined forces with the Office of Innovation and the State's Department of Labor to conduct interviews with individuals who filed for unemployment benefits and use the insights to modernize aspects of the Unemployment Insurance Weekly Certification website, including an upcoming improvement to make the site mobile-friendly. 
---
Small Business Assistance Eligibility Wizard
This tool helps business owners check their eligibility for multiple state and federal assistance programs by answering a series of simple questions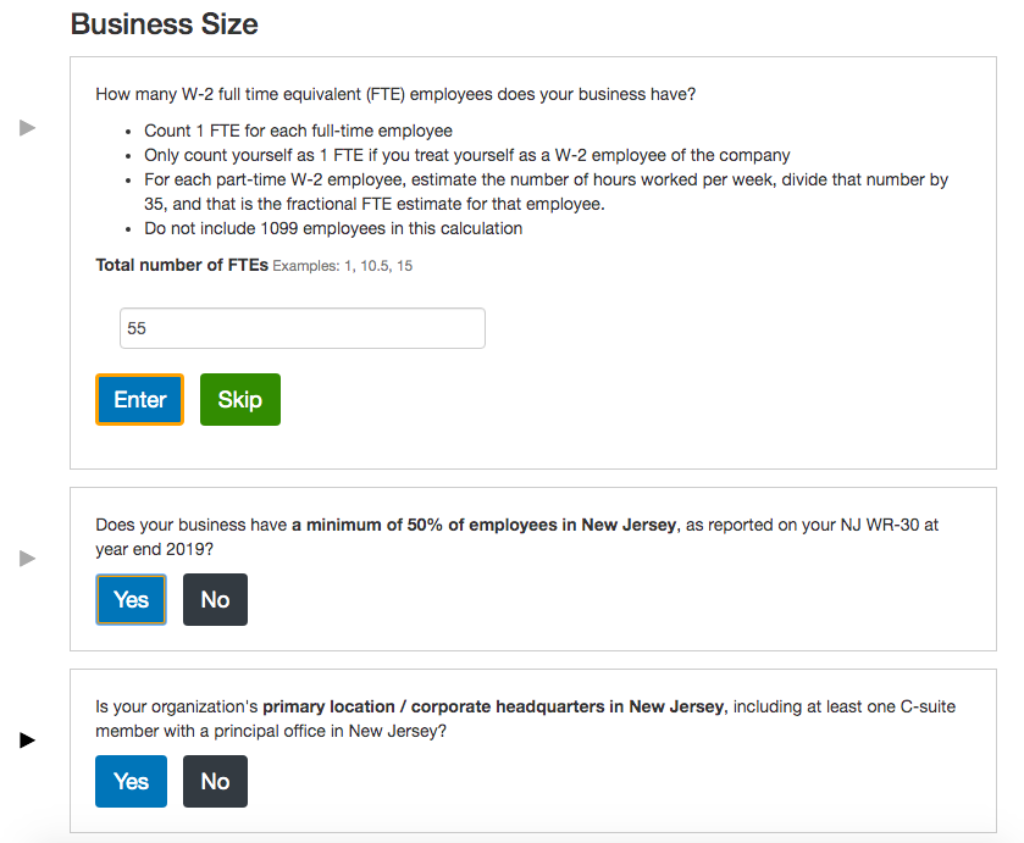 ---

#3: Use the urgency to address tech and design debt so problems are solved long-term
Innovation teams should work with procurement colleagues who understand options that exist both in normal times and during this crisis to expand or develop impactful partnerships that are in the best interest of the state and its residents. Many private sector partners have made their products, talent, and services available to be deployed in innovative projects at no cost at this time. Innovation teams can add value by understanding these opportunities and performing the diligence to ensure they follow best practices in building modern, responsive technology and will not be detrimental to the state in the long-term. In New Jersey, this has translated to multiple engagements with trusted vendor partners, meaning the team was able to bring in new types of external help more quickly. 
This crisis has revealed the true cost of delayed human-centered modernization of the systems that power our public services. Administrative systems have collapsed under the weight of unprecedented demand for public services. It is through these systems that our government delivers the services that we have legislated and prioritized, making it incredibly important that we ensure they work effectively in good times as well as in times of crisis. Our technical systems are a primary vehicle through which residents experience and interact with their government. The capabilities of our systems directly correspond to our ability to be responsive to the needs of the public. 
Digital service teams should use this time to address long-standing technical issues that have been on their reform agendas for years. There is an opportunity to partner closely with public agencies across government to understand their needs at this time and concurrently address long-standing technical debt – including supporting teams that are already working on these challenges across government.. Depending on capacity and resources available, modernization efforts can roll out in phases. The New Jersey team is working to make public-facing improvements to the user experience of legacy systems during this crisis, such as building an updated mobile-friendly Unemployment Insurance certification website, while also looking ahead to deeper engagements in the future—with considerations to add more functionality and move applications to the cloud for improved scalability. 
---
The upcoming improved, mobile-friendly unemployment insurance certification website developed in collaboration with the Department of Labor and United States Digital Service

---

#4: Empower agency partners to co-develop and own new solutions 
Strong agency partners, and specifically the front-line agency workers, are crucial to successful innovation projects, with or without a public crisis. These partners bring subject matter expertise, local knowledge, and the ability to grow the solution after it is implemented. As government becomes increasingly digital, the design and resiliency of technology systems often define how responsive government can be in delivering services to the public. Given how essential these systems are to an agency's mission, the agency must be empowered to own and refine these systems. Even the most well-designed technology solution will need to adapt to changing user needs, policies, or on-the-ground circumstances, and it is critical that the owning agency partner is positioned to continue to iterate and make the changes needed to be responsive in the long-term.  
Acting on values central to leading civic tech organizations, the New Jersey innovation team takes the approach of building with, not for, partners and users. This means taking the time to understand partners' priorities and know what other projects they are working on. Teams across government are doing critical work to respond to the crisis, and it is important that partnerships are respectful of colleagues' other efforts. Office of Innovation staff collaborates not only with the staff directly overseeing the issue, but also with other important stakeholders, like IT, legal, and communications teams. This approach cultivates a sense of ownership among partners and develops their capacity to deliver future projects with less direct involvement from the innovation team. By being directly involved in the work, agency colleagues contribute their expertise, become aware of existing resources available to them and develop new skills for delivering projects.
Conor Carroll is a researcher with the Beeck Center for Social Impact + Innovation at Georgetown University, conducting research with the New Jersey Office of Innovation. 
Giuseppe Morgana is the Digital Director for the New Jersey State Office of Innovation.