Fellows and Project Teams
Katie Wells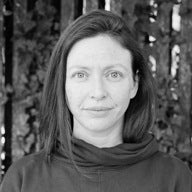 Katie Wells (she/her) is a Postdoctoral Fritz Fellow with Georgetown University's new Tech & Society initiative and co-located in the Beeck Center for Social Impact + Innovation in addition to the Communication, Culture, and Technology Program. With the help of Beeck Student Analysts, she researches the impact of instant delivery platforms (UberEats, GrubHub, DoorDash) on city life.
Katie's studies about the changing relationship between tech and cities have been cited by Axios, USA Today, Politico, and Business Insider. She has discussed the real-time impacts of her research through 70+ media stories in The Washington Post, NPR, ABC National News, Bloomberg's CityLab, CNN, and The San Francisco Chronicle, among others. She recently won an award for the most innovative article published in 2021 in the academic journal, Environment and Planning A: Space and Economy.
Katie earned a PhD in Geography from the Maxwell School at Syracuse University. A native of Canton, Ohio, she lives in Washington, D.C.