February 11, 2020
The Practice and Strategy of Measuring Social Change
February 11, 2020
Measurement can be messy, especially in the impact space! As we're witnessing an explosion in efforts to deliver social change, we're also experiencing how difficult it is to track performance toward these worthy and lofty social goals.
Beeck Center leader Nate Wong moderated a discussion with leading impact measurement expert Alnoor Ebrahim and Miriam's Kitchen CEO Scott Schenkelberg on Tuesday, February 4, 2020 at Georgetown University based on the release of Ebrahim's new book, "Measuring Social Change: Performance and Accountability in a Complex World." The rich conversation covered both theory and practice, recognizing how difficult it is to translate strategy to reality. This conversation was part of the Georgetown University's Center for Public and Nonprofit Leadership class taught by Professor Kathy Kretman.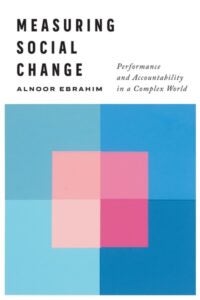 Three key takeaways are:
To start, we need to actually confront our assumptions of what are "good" metrics.

While there's a strong emphasis on long-term outcomes, "there are certain kinds of outputs where short term outputs make a great deal of sense (

video

)," Alnoor exhorted the audience in response to Nate's question. Think about ambulances. Service delivery times are incredibly important – they are a matter of life and death… literally. So it's more of a question around what do these metrics help drive? It's more about strategy, performance, and accountability.

To measure social change, it first starts with the organization's strategy and their theory of change.

Organizations like Miriam's Kitchen can shift strategies, in this case from a

niche

to an

ecosystem

strategy, but it takes a very different type of approach and skills. It requires radical collaboration. Miriam put a bold mission forth to end chronic homelessness in Washington, D.C., which dramatically reconceptualized how they operated. Instead of focusing on meals and programs, they needed to orchestrate the over 100 other players around joint goals and coordinated action. "I was skeptical at first (

video

)," Miriam's Kitchen CEO

Scott Schenkelberg

admitted. "We were really good at delivering outputs, think of our meals for the homeless and holding onto our select sphere of influence. Going out there and saying that we can end chronic homlessness, that's a big scary statement… When I say that we are going to end chronic homelessness, we better end it, or else it's a really big failure. People said it's going to take time Scott; here are the things that we need to do, Let's explore this process by which we can do it so."

The measurement strategy is only as good as the system that it sits within. As Ebrahim points out (video), "The funder ecosystem is highly fragmented, and there is a challenge for funders to be doing more in terms of collaborative fundraising, so there's sufficient pools of resources to sufficient pools of executing organizations to address social problems at some sort of scale." Making this move will entail shifting funders to articulate coordinated theories of change with a shared sense of objective measures. It will also take incentives for coordination and collaboration among implementers.
Ebrahim is a professor at The Fletcher School of Law and Diplomacy at Tufts University, whose current research addresses two core dilemmas of accountability facing social enterprises, nonprofit organizations, and public agencies: How should they measure and improve their performance? How should they address competing demands for accountability from diverse stakeholders?
The event was sponsored in part by McCourt School of Public Policy, Center for Public and Nonprofit Leadership, Beeck Center, Georgetown College, and the Social Responsibility Network (SRN) of Georgetown College.
---
Read more about the event from the Center for Public and Nonprofit Leadership – Measuring What Matters: Strategies for Measuring Change in the Social Sector
---
This is one of the many events that the Beeck Center hosts throughout the year, everything from workshops to open houses to author events like this one. They are an excellent opportunity to bring together members of the student and broader social impact communities for spirited conversations on important issues. Previous guests include Ann Mei Chang, author of "Lean Impact," and Anand Giridharadas, author of "Winners Take All: The Elite Charade of Changing the World."

Join us on March 31 for our next author event, as Henry Ramos discusses his new book, "Democracy and the Next American Economy."