April 1, 2022
From Hurricane Katrina to COVID-19, Denice Ross works to 'democratize the data' for human-centered recovery
In the early 2000s, former Beeck Center Fellow Denice Ross was on a mission to use the burgeoning power and possibility of the Internet to do something with Census data that had never been done.
A recent New Orleans transplant and co-director of the Data Center—a nonprofit focused on repackaging data for public use—had witnessed the "historical, structural inequity" of the city firsthand. At the time, few people had the technology, resources, or skills necessary to understand for themselves the mountain of Census data being released. The result was that vital information sat in spiral bound books on library shelves collecting dust.
"People knew their lived experiences and the realities they faced in their communities, but without hard data, there wasn't much they could do to effect change," Ross said. "With the Internet, there was this potential to democratize the 2000 Census data so it would be easy for neighborhoods to advocate on their own behalf."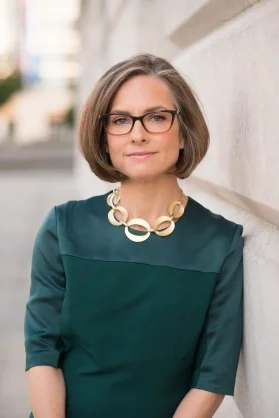 Then, Hurricane Katrina hit and the data landscape of the city was instantly rendered historical. Ross and her fellow New Orleanians had to face a new reality: establishing an entirely new data framework as they were surviving, rebuilding, and planning for the future. 
"The feeling of losing a city is just so defining," she said. "There's this incredible sense of helplessness when you can't just go home and start rebuilding."
With her husband deployed overseas in the military, her home with no electricity, and a toddler with no daycare facility to return to, Ross felt "adrift on dry land." Amid the turmoil, she found an anchor in her work. Democratizing the data became an all-consuming mission.
"I was grateful because I had this specialized role I could play in recovery: figure out what data people need, find out where it is, and connect the two," Ross said. "That's the beautiful thing about a human-centered approach–even when everything changes, you always have a north star. What do people need and how can I get it to them?"
Ross worked tirelessly to bring a data-driven approach to community planning initiatives, and even co-founded the first new childcare center after the storm. Eventually, she went on to become the director of enterprise information for the City of New Orleans, establishing one of the most successful open data initiatives in the country. She brought her commitment to data and innovation to the Obama Administration in 2014, where she co-founded the White House Police Data Initiative and worked with the Department of Energy on crowdsourcing private-sector data to improve community resilience in disaster-impacted areas as a presidential innovation fellow. 
As a fellow at the Beeck Center for Social Impact + Innovation, the lessons Ross learned in the years after Katrina were no less poignant as she watched the country's first digital Census unfold just as COVID-19 roared to life. Amid a pandemic that affected every corner of the United States, Ross knew that open data and government transparency would be vehicles for equitable recovery.
"The pandemic made it explicitly clear that in order to respond and rebuild—and not just snap back to the inequalities that existed before—we need good data capacity at all levels of government," Ross said.
At the Beeck Center her research centered on data collaboratives and government digital transformation, with a focus on the 2020 Census. Ross and her team were sharply attuned to the decision-making process within the US Census Bureau, a complex undertaking due to the sheer size of the organization. She found that the government's ability to pivot and keep Census efforts on track during the pandemic were due in large part to the partnerships they built on the local level with trusted messengers—people who knew their communities and the best way to reach their neighbors. That "civic infrastructure" was crucial to keeping the democratic process moving and keeping people healthy.
"Not only was there the largest non-wartime mobilization of federal government staff ever, it was also a huge mobilization of philanthropy, community organizations, nonprofits, and state and local governments," Ross said. "We've always known that government can't do it alone, but if you have a common base of shared information that you're all working from then at least we can align efforts to meet the challenges before us."
During her time at the Beeck Center, Ross also spearheaded the creation and launch of USapportionment.org, a go-to resource for members of Congress, staffers, and the media. The site tracks the relationship between the historical size of the House of Representatives and the Census, providing crucial background for interpreting the history of Congressional apportionment and the size of the House.
"Georgetown was the perfect institution to do that in, and the Beeck Center provided a community of experts to tap into and a systems-level approach," Ross said. "When you're trying to solve problems that are too complex for one person to answer, that's the type of environment you want to be in."
Now, Ross is reapplying her expertise to a government setting as the U.S. Chief Data Scientist within the White House Office of Science and Technology Policy, where her career-long passion for "democratizing data" will take on new urgency.
"I'm focused on addressing these questions: What data do we need to design an equitable recovery? How will we use that data responsibly to ensure we are building back better? What can we do to support the federal, tribal, state, and local data practitioners so they can help deliver better outcomes for the American people?" Ross wrote in a blog about her transition.
In all of Ross' roles—new and old—her "north star" remained the same: connecting people with the information they need to improve their lives and the wellbeing of their communities.
"For me, success is when a community group really starts to view being a data user as part of their identity," Ross said. "That's the end goal, that there's no keeper of the data—it belongs to the people."
Ashleigh Fryer is the Storyteller-in-Residence at the Beeck Center, focused on humanizing social impact to help catalyze change. You can find her on LinkedIn.