December 10, 2019
Setting the Stage for Digital Transformation in Government
December 9, 2019 | By Christopher Wilson
Digital tools and strategies have a tremendous potential to transform government: improving services, boosting efficiency, and strengthening ties to the public. The last decade has seen several important milestones as data and technology have been leveraged to solve specific challenges across the vast scope of government in the United States. 
But despite the best efforts of technologists, visionaries, and institutional champions, the full potential of these tools has been slow to materialize at scale.  
To better understand why, the Beeck Center spent several months in early 2019 conducting research and interviewing experts working in and around tech in government. We spoke to people on the front lines of digital transformation, doing the hard work of making technology useful for government, and making government better. More than 70 people leading or supporting the novel use of technology or data in federal, state, and local government in the United States told us about how these tools could best add value to government, what was obstructing their work, and what they needed to do their work better. 
Their stories confirmed that there are a lot of hopes and concerns surrounding government technology, and that there are big differences in how the opportunities and challenges play out across different policy areas and levels of government. But there are also common threads, and one message was clear: 
Technology and data are the new normal, and governments have no choice but to address how they impact the core work of government. This has tremendous potential to improve government and government services. But technology is no magic bullet, and never catalyzes government transformation on its own.
People working at the front lines of government technology and innovation rather describe digital transformation as an iterative and evolutionary process. They describe a variety of ways in which it can be supported, challenged, and leveraged to facilitate lasting transformation.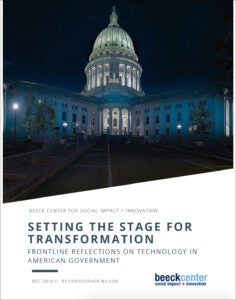 Drawing on those perspectives, the Beeck Center is rolling out a new report documenting the perspectives and needs from the frontlines of digital transformation.
Setting the Stage for Transformation: Frontline Reflections on Technology in Government reviews what we learned, and suggests that there are three broad institutional conditions that facilitate digital transformation by using technology-related tools and strategies to add value to specific programs and processes. 
Explicit support for cross-functional technical expertise

Deliberate professionalization of technical expertise, and 

Open and engaged institutions. 
In considering how to establish those conditions and set the stage for digital transformation in government institutions, the report also makes specific recommendations to policy-makers, implementers, and external stakeholders.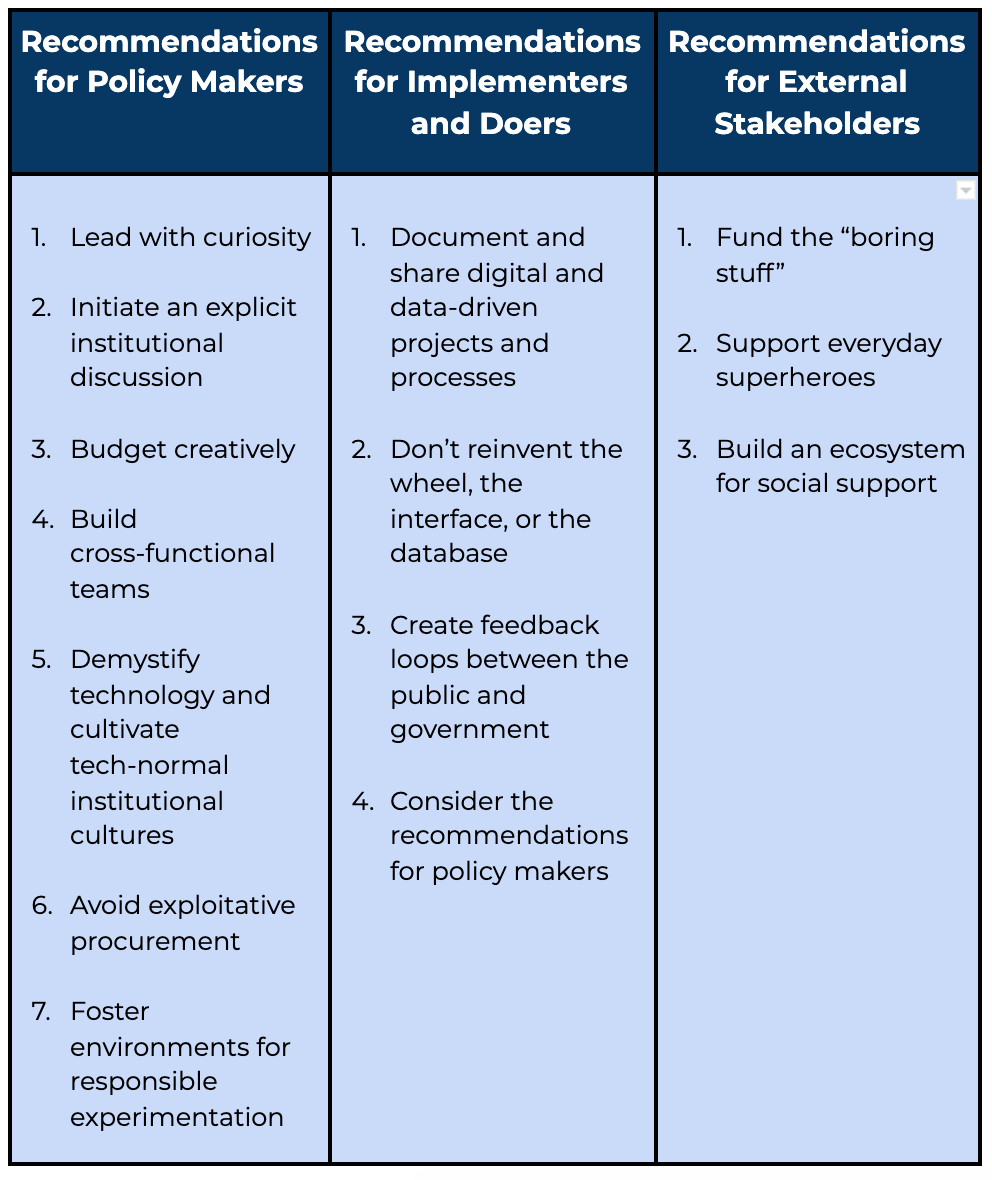 To review the full results of this research, you can download the full report, including detailed methodologies, findings and analysis, or read the report highlights that presents the main findings and conclusions.
This analysis builds directly on foundational work done by researchers from the Public Interest Technology team at New America and the digital HKS project at Harvard University, as well as practitioners currently and formerly on government teams. We hope that it advances both research and practice in the field, and enables more of the good work already being done to improve government through the use of new tools, technologies, and approaches.
Christopher Wilson is a fellow at the Beeck Center for Social Impact + Innovation.  His research focuses on open government, citizen participation, and the influence of international norms on government practice. He is based out of Oslo, Norway. He blogs about research and methods for assessing civic technology at https://methodicalsnark.org.