January 30, 2020
Sharing Data for Social Impact: Beeck Center Releases New Guidebook
January 30, 2020 | By Natalie Evans Harris
Society uses data for just about everything. Every day we hear about different ways organizations collect data about us for marketing purposes, insurance decisions, and improved delivery of social services including housing, education, and mental health. We also hear about data being used to deny home loans, set outsized bail, and often exacerbate existing biases within our social systems. It's no question that, good or bad, data drives decisions by large organizations, small nonprofits, government officials, and everyone in-between. 
Through this expansive approach to using data, many government agencies are also experiencing the pains of governing how that data is shared, resulting in practices that are unsustainable, ineffective, and not forward-thinking. There is a fundamental need to evolve these practices into a governance approach that balances the need to protect people's data with the need to uncover opportunities to better serve communities through data. 
As we head into 2020, it is already clear that a shift in how we make decisions with data is underway. The Federal Data Strategy Action Plan makes data governance processes a top priority. The California Consumer Privacy Act went into effect Jan 1, 2020, requiring entities to fundamentally change how they handle data with data governance standards as a main focus. And Congress continues to work on national privacy legislation that influences data governance standards, including nearly 10 bills under consideration for regulating the collection and use of personal data, individual consent, and even defining what constitutes personal data. Simply put, new data governance strategies are being developed and policy improvements are driving this conversation.
At the Beeck Center, I spent the past year leading a research effort to gather best practices and lessons learned on data sharing. In partnership with The Rockefeller Foundation, I hosted collaborative discussions with multiple stakeholders and practitioners, conducted independent research with dozens of organizations, companies, and government teams, and drew on my nearly 20 years leading data practices. We are excited today to launch a new resource based on that research: Sharing Data for Social Impact: a Guidebook to Establishing Responsible Governance Practices.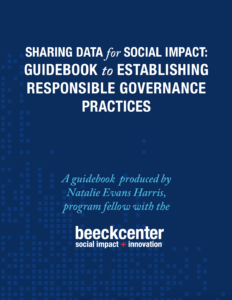 Thankfully, we aren't starting from scratch as many government agencies have well-established use cases for sharing data in pursuit of improved social service delivery in areas such as K–12 education, public transportation, and healthcare. For example: 
In 2017, Florida's

Broward County

saw the number of children moving into their

Kinship Care Program

— where kids live with grandparents or other non-parental relatives — had increased significantly. To improve services for these kinship providers, the county took data from a variety of sources — the public schools, Department of Children and Families, Department of Juvenile Justice, and others — and worked with the community to analyze the information, then put it into practice. This engagement of stakeholders and participants created community feedback loops on shared data between families and agencies, strengthening family outcomes through a decision making process that emphasizes collaboration, transparency, and shared interest in positive results.  

On the other side of the country,

Los Angeles County

wanted to study the effectiveness of a number of social service programs for people experiencing homelessness. While the data was available, it was trapped in individual agencies, making it difficult to understand if an individual used services outside a single agency. As a way to combat this siloing of data and link social service organizations, researchers created an integrated data system. This

system, launched in 2015

, "provided agencies with a comprehensive picture of the [homeless population] and their needs and helped these agencies consider different models for service delivery… The project was relatively easy to execute with the [integrated] data, but would have been impossible without it."

By not only linking data from several agencies but also

outlining data-use practices and procedures for each agency, Los Angeles County is ensuring the delivery of vital services to a vulnerable population.
Another recent trend is private companies, governments, and nonprofits forming cross-sector data-sharing collaboratives in support of the social good, but these can be hampered by organizational rules restricting the availability of data to external actors. In an environment where data are only used for making funding decisions or to narrowly evaluate programs, this model can work well. But in pursuit of innovation or improved social service delivery, this model is less encouraging. I discussed the need to shift to a more equitable and sustainable governance process in a previous blog. 
As the amount of data and methods for collecting it increase, so have opportunities for drawing insights about society. Bringing together diverse data sources is crucial to ensuring that insights promote equitable growth. And as promising as data sharing is for improving societal outcomes, the analysis of integrated data (especially through predictive analytics) can easily repeat inequities learned from past service delivery. Contextualizing data analysis with methods used by social sciences and ongoing community engagement is crucial to ensuring data analytics do not replicate or worsen inequitable outcomes.
Through our research, we found three key phases critical to establishing equitable and sustainable data sharing governance practices for social impact. Our guidebook helps individuals and teams seeking a primer to better understand the key legal, technical, and cultural components to data sharing governance. The guidebook provides a holistic process detailing each phase and extensive resources to aid stakeholders.

Build the collective
Get everyone on board. Start with the policy problem. Identify stakeholders. Take stock of capacity, motivations, barriers, and potential data solutions. Demonstrate value and reduce uncertainty to generate buy-in. Establish a minimum viable coalition and enshrine your shared vision in a charter. 

Define the operations
Get everyone in line. Create the governance framework tied to the charter. Design a feedback loop and integrate it into the governance framework. Formalize those two elements into a data-sharing agreement. Launch the operations of the minimum viable coalition.

Drive impact
Get everyone to improve and share. Re-evaluate assumptions, approach, and metrics. Survey impacted communities and stakeholders. Use feedback loops to enact iterative improvements to the governance structure. Repeat this process until feedback becomes minimal. Scale up. 
We recognize that many different actors will be involved in this process and that each one faces unique challenges, goals, motivations, and opportunities. This guidebook is for people looking to leverage data and data sharing towards evidence-based policy making. Moreover, it can be used by policy makers and organizations interested in giving agency to individuals over their data along with organizations interested in ethically and responsibly sharing data. 

While data use can sometimes lead to harmful outcomes, what will never change is that data can, should, and will be used for good. Because data plays such a large role in society, it is imperative that organizations and governments use and share it responsibly. While there are resources out there to do this, our Guidebook delivers the perfect framework with resources, advice and practical examples for tackling the complexities of data sharing going forward. We look forward to supporting organizations as they activate the lessons we captured and will continue recording and sharing good practices through that process.
Natalie Evans Harris is a Beeck Center Fellow and a sought-after thought leader on the ethical and responsible use of data after nearly 20 years advancing the public sector's strategic use of data. Follow her on Twitter @QuietStormNat