Sharing Data for Social Impact: Guidebook to Establishing Responsible Governance Practices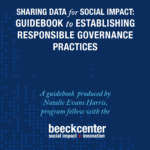 Unlocking the potential of data to help solve social problems requires a robust framework for data governance and data sharing. A framework can address major points of risk and ambiguity that prevent many actors from engaging in meaningful data sharing, and better data sharing and data governance will in turn lead to improved social service delivery.
This report, from Beeck Center Fellow Natalie Evans Harris, lays out a three-phased approach to adopting sustainable data sharing governance practices including resources, case studies, and best practices.

Additional Resources
Share the Report
Photo by Arif Wahid on Unsplash