June 10, 2020
The Evolving Role of a State CDO: A Framework for Success
June 9, 2020 | By Tyler Kleykamp
As the world becomes increasingly digital, what's become clear for both the public and private sector is that data needs a leader. Since 2010, states have been establishing Chief Data Officer (CDO) roles and most major cities and large federal agencies have them as well. As the number of CDOs has grown to over 25, and the size of their teams have increased, the role has evolved and matured from being primarily focused on open data, to ensuring data is shared and used effectively across their states.
The COVID-19 pandemic and recent protests against police brutality highlight the unique role the state government plays and how it directly impacts people's lives. Data is already in the spotlight and will play a critical role in how states recover from the pandemic and address systemic racism if leveraged properly. For years, Connecticut has been collecting traffic stop data in an effort to determine whether drivers are being stopped due to racial profiling. A growing number of states are providing COVID-19 case data broken out by race, illuminating the disproportionate toll the virus has taken on communities of color. States must also recognize that years of systemic and structural racism has resulted in overrepresentation of racial and ethnic groups within their data systems. With their ability to engage across agencies and departments, the CDO will be a hub for state governments moving forward.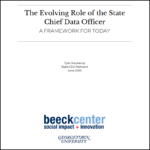 The goal of the State Chief Data Officers Network is to surface and scale best practices and opportunities for collaboration across states. We also aim to support states in the creation of a CDO role. This means we need to better define what the CDO roles and responsibilities are. While there are case studies and playbooks to support CDOs in various levels of government, most aren't geared toward the unique challenges states face. City CDOs are often focused on open data and analytics. Federal CDOs roles are generally defined by the Foundations for Evidence Based Policy Act. To help states improve their use of data, the State CDO Network created a core framework to guide them in structuring effective data programs.
Through the insights collected from state CDOs since November, and drawing upon resources from the Pew Charitable Trusts and Results for America, six core elements of a successful state data program have emerged:
LEAD – Designate an executive level data leader as the Chief Data Officer
PLAN – Create a strategy, governance structure, and inventory of data
BUILD – Increase the capacity of stakeholders to effectively use data
SHARE – Establish clear and predictable processes for data sharing
ANALYZE – Provide mechanisms and platforms to enable data integration and analysis
SUSTAIN – Ensure ongoing support exists for data efforts
To implement this framework, we've created two tools states can use. The Evolving Role of a State Chief Data Officer will help policymakers and state CDOs alike shape the role and responsibility of a CDO. State Data Policy Options is a guidebook with examples of effective legislation from states that can be used to support efforts to implement this framework. The policy options will grow over time as states continue implementing effective solutions.
States don't need to implement this framework all at once. Rather, it should be used as a roadmap to help them mature in their use of data over time. Just as the CDO role has evolved since its inception, it's likely this framework will too. These tools will help get states moving in the right direction.
Tyler Kleykamp is a Beeck Center Fellow and Director of the State Chief Data Officers Network. Follow him at @tkleykamp.