June 5, 2023
The Uniquely Collaborative Role of CDOs
Learnings from the 2023 Convening of the State Chief Data Officers Network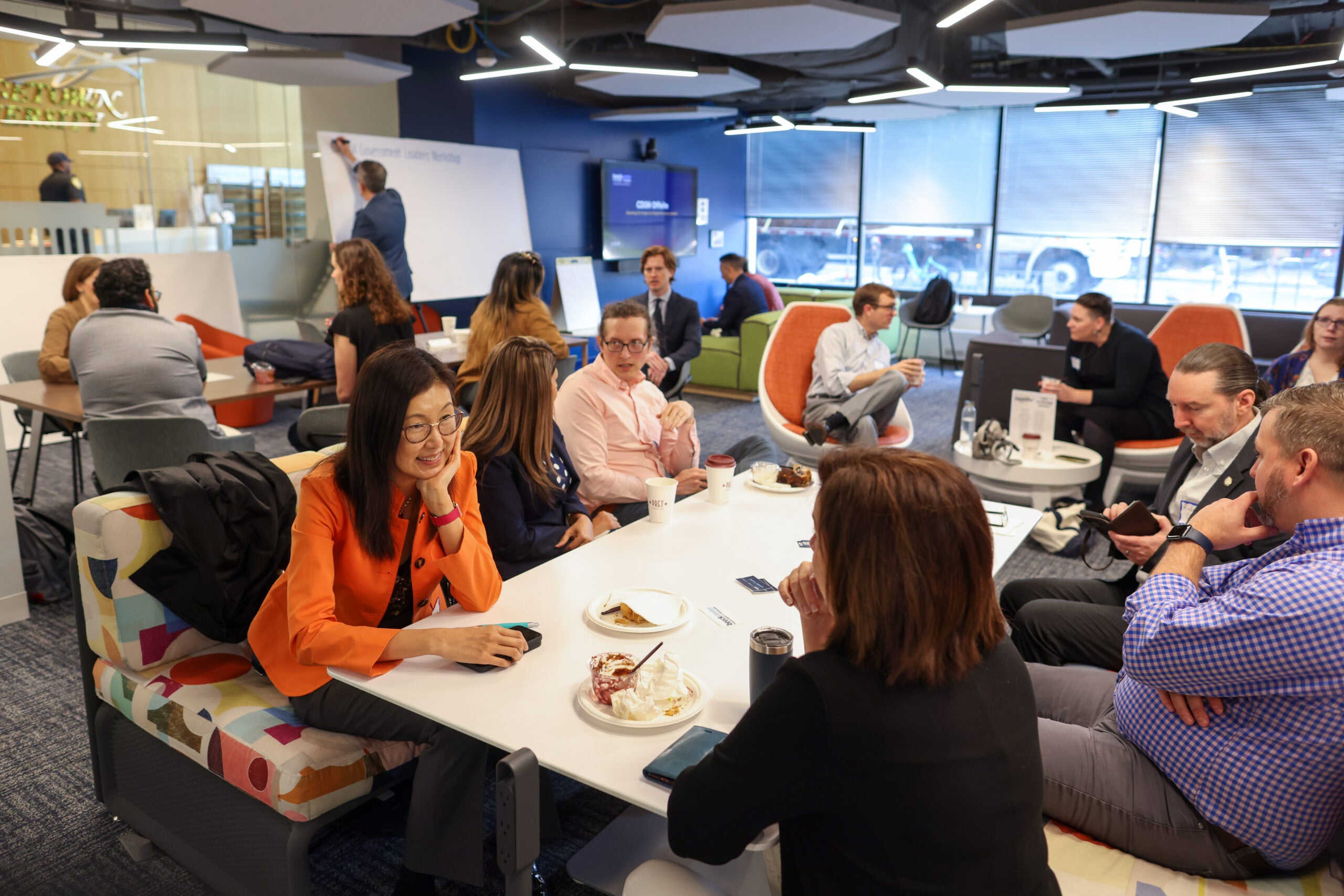 Last month, data leaders from across the country attended the Beeck Center's annual convening of the State Chief Data Officers Network to workshop priorities for the coming year and unpack their evolving roles. 
CDOs are critical advisors to state executives on all issues related to data use. As we've learned throughout the pandemic, they build crucial capacity and resilience for state governments to respond to emergencies. But their role is often difficult to define and hard to resource. During the pandemic, many state CDOs reported being left out of planning around crisis response only to be brought in to help orchestrate data-sharing after decisions about public health response programs and data collection had already been made. 
Because CDOs use such a variety of skills on a daily basis—from participating in IT procurements to leading data 101 training exercises to writing grants for federal funds—state leaders often overlook the need to integrate this role across state functions.
CDOs, with a C-suite title borrowed from the private sector, exist in three quarters of US states. They are inherent collaborators, and often deepen the impact and quality of cross-agency collaboration in states by empowering agency-level decision-makers to do their jobs with better data and tech tools in-hand. Like orchestra conductors, CDOs turn their back to the crowd and coordinate data-sharing projects, implement standards in data collection, and build data skills across the state.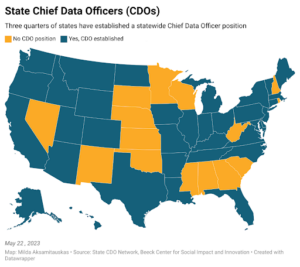 Previously, the Beeck Center worked to create a network for the state CDOs and provided guidance for states interested in establishing the position. During the 2023 Convening of State Chief Data Officers, data leaders highlighted that their jobs are complex and intertwined with other executive roles far more than the originally described (or created) role.  
Few states allocate significant funds to long-term data-management initiatives and infrastructure. As a result, CDOs have to be resourceful, following available policy windows to pursue data modernization in policy areas that governors are interested in. CDOs excel in finding opportunities to advance state data infrastructure in agencies that are ready to begin solving long-term systemic issues. In order for state leaders to answer pressing policy questions using data, CDOs need to be included in statewide initiatives early and engaged often to inform cross-agency data strategy.
By putting their hooks in projects that have energy and money behind them, CDOs can walk agencies through processes to improve how they collect, store, interpret, share, and govern data. Slowly but surely, this builds statewide capacity to solve problems with data on a regular, ongoing basis.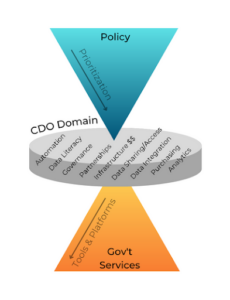 When new governors take office and identify policy priorities like housing, public health, violence prevention, or education, CDOs seek out the most strategic opportunities within those issue areas to build long-term infrastructure to benefit the state programs in the long run. To do this careful, strategic channeling work, they need to be in touch with both policy leaders and frontline workers who use state data systems day-to-day.  
Some CDOs call this a "middle-out" strategy of data innovation, where—rather than running with decrees from top-down, or working exclusively from human experiences from the bottom-up—they seek out champions in the middle ground who oversee budgets and agency-level priorities and who can act quickly on the opportunities arising from policy leaders. But without investment in this hard work, and without support to allocate sufficient funding for state data teams, CDOs struggle to convince people to do this systemic work that impacts residents' lives. 
Civil servants are better prepared to distribute child care benefits, declare public health emergencies, and assure your local diner meets the sanitation requirements when they have the necessary data. Established and supported  CDOs allow governors and agency administrators to feel the digital pulse of their communities. When CDOs use data and get agencies to increase wages for public health professionals in areas without sufficient access to health services, people on the ground feel the difference. When states empower CDOs to analyze the gaps in the delivery of unemployment insurance or other benefits, people in need of services will directly benefit from the strategic use of data.  
In the coming year, the State CDO Network will continue supporting its members and exploring important emerging strategic priorities for CDOs like streamlined data sharing agreements, data-related job classifications, and assessment of  artificial intelligence and machine learning model use in government.