May 4, 2020
Transforming a Textile Town: An Experiment to Revitalize Small Cities
May 6, 2020 | By Jen Collins and Ryan Goss
This is part of our 'Impact in Action' series, co-produced with the Centre for Public Impact, highlighting innovative models and lessons for driving positive community impact through investment and development projects across America. Read the other stories from Baltimore, MD and Merced, CA.
A community that changed in a day
Overnight, 4,340 people lost their jobs.
The closing of Cannon Mills textile factory in Kannapolis was the largest one-day layoff in North Carolina history. Entire households lost their incomes in a flash. Once the world's largest producer of towels and sheets, Kannapolis transformed from a bustling middle-class community to a town with an uncertain future.
While the sudden nature of the 2003 closing was a shock in Kannapolis, the consequences of declining manufacturing industries had already affected communities across the southeast. Nearly two decades later, many of the towns most affected by this economic disruption continue to lay dormant and devoid of opportunity.
But something different is happening in Kannapolis: construction has begun on a $52 million baseball stadium, a $17 million streetscape renovation is near complete, and a 350-acre Research Campus now rests on the mill grounds. Private capital is working alongside public investment to rebuild Kannapolis. After decades of decline, Kannapolis' emerging downtown brings hope of economic opportunity and renewed pride for residents.
As the economic impacts of COVID-19 spread across the nation, many communities are experiencing devastation similar to Kannapolis after its sudden mill closure: residents are out of work, downtown businesses are folding, and the promise of an economically vibrant future seems an uncertain reality. As the world transitions from crisis management to economic recovery, the lessons of Kannapolis' transformation will be as important as ever. While the journey of recovery has been neither fast nor easy, it reveals the promise of a revitalization thesis centered on the power of partnership to turn a community around.
---
Guiding Principles for Equitable Investments
Alongside its partners, the Beeck Center created the Opportunity Zone Reporting Framework, a voluntary guideline designed to define best practices for investors and fund managers looking to invest in low-income communities through incentives such as Opportunity Zones (OZ). In the sections that follow, we explore the projects in Kannapolis, extracting the lessons to help communities and investors bring the five guiding principles of effective and equitable investments to life:
Community Engagement
Equity
Transparency
Measurement
Outcomes
---
A model for change
In the early 1990s, downtown Durham was struggling. Like Kannapolis, Durham was hit hard by declining industry. For several decades, the historic business district lay devoid of significant investment. With rising crime rates and a downtown falling further into disrepair, the city's future looked bleak.
Downtown Durham began to change when local officials realized the power of strategic public investments. The city pursued creative public financing measures to build a new minor league baseball stadium and fund public infrastructure. Private developers soon acquired vacant properties, created large scale redevelopment plans, and transformed factories and department stores into offices and apartments. At the same time, Duke University expanded its off-campus presence downtown. Today, Durham is seen as one of the most striking downtown turnarounds in the nation, and it was forged through bold public-private partnerships.
---
[table id=2 /]
---
While the city has undoubtedly rebounded, Durham still struggles with challenges such as poverty, affordable housing, and racial inequality. These persistent issues remind us of the often overlooked need to ensure economic growth is equitable, particularly for a community's most marginalized residents. While challenges remain, elements of Durham's decades-long growth reveal the potential when private and public dollars work together to spur change, an approach that offers promise for places like Kannapolis.
The Small Cities Thesis
A revitalization experiment
The economic value of small and mid-sized cities is often overlooked[mfn]While there is no single definition of a small and mid-size community, here we are referring to cities or towns with a population of about 50,000 to 250,000 people on the outskirts of larger regional economic hubs. These might also be called "tertiary" cities nationally. [/mfn]. As a recent report explains, many of these communities struggle to create "pull" factors that overcome the "push" factors that drive prospective residents, employers, and investors elsewhere, such as obsolete infrastructure, an over-reliance on traditional industry, and a limited human capital base. The reality is that, for some communities, the severity of these challenges means wholesale revitalization is out of reach absent some sort of radical disruption.
But in other communities, there is economic growth waiting to burst. A group of investors, developers, and government partners have been working on a new experiment to unlock the potential of these places, what they call the "small cities thesis." The thesis advances the idea that long-term private and public capital can work alongside each other to spur sustainable economic growth and generate risk-adjusted returns to investors in small cities that have otherwise been left behind.
Shekar Narasimhan, one of the investors driving this experiment, notes "there are places where the ingredients for success have always been there, but all they need is a spark." This spark is often initiated by local leaders who build a vision, take a risk to launch investment downtown, and bring along partners to achieve that vision. The thesis suggests that this spark can unlock growth in cities with certain characteristics:
---
Community Identification Characteristics
The thesis aims to unlock the economic potential of small cities that have:
Seen a decline in population density but have a downtown infrastructure in place
When a major employer closes its doors or relocates to the suburbs, once densely populated downtowns often become under-utilized and dilapidated. Instead of displacing existing residents, the thesis expands on the existing infrastructure and aims to fill gaps with people and investment.
Community-minded developer(s) or a public entity that owns, and is willing to transform, a critical mass of distressed assets
Launching a unified vision for revitalization is nearly impossible when a large share of a downtown's distressed property has disparate owners. But when a city, state, or team of developers own these assets, it's possible to overcome the inertia that often prevents projects from getting off the ground.
Community assets that lend themselves to growth
Community assets such as transportation options (e.g. rail and highway access) and anchor institutions (e.g. universities, hospitals, and government bodies) are critical to ensuring a place can benefit from and contribute to the growth of its surrounding region.
Strong local leadership and a plan for growth
Achieving a bold vision for growth requires leadership and investment from local public officials and residents. Without it, private investment is likely to be ineffective.
Investors with a commitment to a long-term vision
Investors must be willing to uproot the short-term investment mindset and work with local partners towards a long-term vision for rejuvenation. This requires patient capital and long-term investment.
---
Focusing investments in the downtown corridor aims to positively impact the community. In many small cities, downtown is the lifeblood of the community: a place for jobs, a venue for entrepreneurs, a space for convening, and a hub for transportation. If re-modeled with resident input, a vibrant downtown can inspire pride, improve quality of life, and fuel access to economic opportunity. When deciding where to locate and attract talent, employers increasingly look for vibrant and walkable downtowns. For the Kannapolis residents still struggling with the aftermath of layoffs, the stability of their future is tied to attracting employers offering equitable job opportunities.
Bringing the experiment to life
To test this thesis, a group of private and non-profit partners launched the Remergent Fund, a qualified Opportunity Zone (OZ) Fund that will invest in emerging main streets and local entrepreneurs in small cities in the Southeast. Beginning in their backyard markets of North Carolina and Virginia, Rivermont Capital, Enterprise Community Partners, and Beekman Advisors capitalized enough funds to invest in five cities, but ultimately aim to spur dynamic growth and track outcomes in 10 cities within the next 15 years.
Incentives that reward long-term investment, such as Opportunity Zones, are an important ingredient to the Fund's prospective success. Based on the turnaround stories of communities like Durham, the partners behind the Fund estimate it can take 15 years to see signs of recovery after decades of decline. Because investors must keep their holdings in Opportunity Zone funds for 10 years to maximize their tax advantage, OZs are a critical tool to attract and scale the long-term capital that's needed to revitalize many communities across the nation.
---
Commitment to measurement and outcomes
Measuring progress towards positive outcomes are essential for equitable and effective OZ investments. To understand whether the Remergent Fund, and others like it, unlock dynamic growth in the next 10 years, it's important to track quantitative metrics such as those listed in the IRIS + Catalogue or as captured on platforms such as City Builder by CitiBank. Additionally, qualitative metrics, such as resident testimonials, will help investors better understand their impact in OZs.
---
Transformation becomes reality in Kannapolis
Years before the Remergent Fund or Opportunity Zones, Kannapolis city leaders were already forging a new future for their city. Mike Legg took over as Kannapolis City Manager in 2004, just a year after the closing of Cannon Mills. Having lived in the town since 1995, Mike witnessed the plant's steady decline but did not expect it to disappear in a single day. "It was a body blow to the community," Mike reflected. "The social impacts were devastating."
Soon after its closing, the mills' owner, David Murdock, partnered with the state and the University of North Carolina to convert part of the plant into the North Carolina Research Campus, a 350-acre laboratory designed to contribute to the region's growing life sciences sector. The city realized that for the Research Campus to become an anchor that sparks community growth, Kannapolis needed a revitalized downtown.
Through active engagement with residents, the city realized that the community was eager to see the historic downtown occupied and vibrant once again. In 2015, the City Council negotiated the purchase of most of its downtown from Murdock. "As far as I know, no city our size or larger has bought its entire downtown," says Mike. With this purchase, the city's downtown revitalization strategy was underway.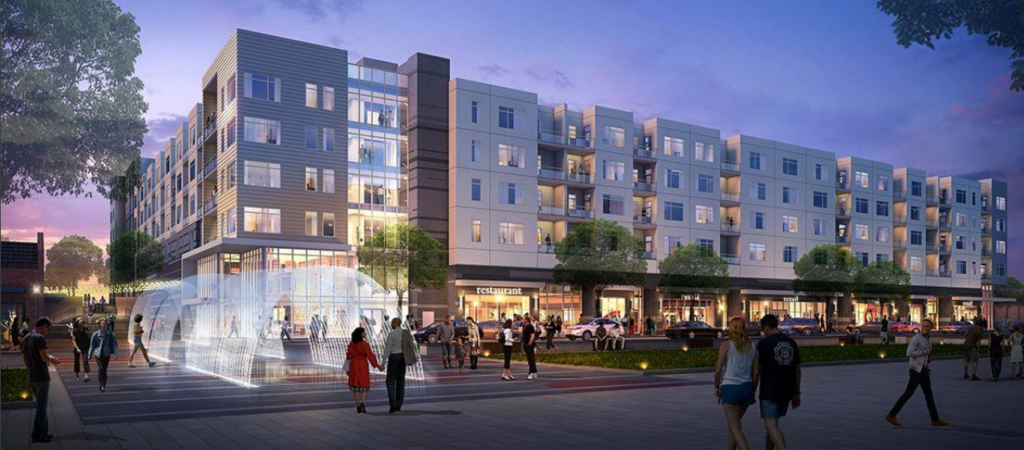 Kannapolis also benefited from its proximity to Charlotte, one of the nation's fastest growing regions and home to expanding finance, banking, and research industries. While this proximity brought jobs to Kannapolis, many of the residents most affected by the plant closure do not have college degrees and worry about the availability of job opportunities. But there are, however, some signs for optimism. In response to concerns, the local community college system is expanding training options for residents and some companies have announced plans to open up shop in Kannapolis. Amazon, for example, will open a distribution plant that will initially offer 600 jobs and another 600 jobs in the years to come.
While steadfast local leadership and some external factors have fueled Kannapolis' transformation to-date, the community needed commitment from the private sector to reach its full potential. Recognizing this, the Remergent Fund – powered by the Opportunity Zone incentive – backed a $58 million residential development in the heart of downtown. With nearly 300 housing units and a 420 car parking deck, the space will cater to downtown's growing demands.
Lessons Learned
While Kannapolis' journey is far from over, the effort so far has yielded valuable lessons for how strong public-private partnerships can inject new life into a community:
---
Opportunity to Impact: An Investment Assessment*
The Centre for Public Impact – alongside its advisors at Georgetown's Beeck Center – set out to better understand the process of generating positive community impact through private investment and development. The resulting tool, Opportunity to Impact, is a simple, yet rigorous guide for evaluating an investment project's potential for positive impact. Some of the findings from this research is embedded in the section below.
---
Revitalization is hard, but it is worth it
The path from decline to vibrancy is long, difficult, and often un-guaranteed. Raising capital to jump-start this process has been challenging for the Remergent Fund. "We focus on communities that are significantly under-performing relative to their market potential, but no one wants to assume the risk if they're surrounded by boarded up buildings," notes Andrew Holton, Managing Principal of Rivermont Capital. Until recently, convincing large institutional investors to buy into this mission was particularly challenging. But given their scale, institutional investors are essential to actualizing the small cities thesis around the nation. "The Goldman Sachs Urban Investment Group is proud to be part of the revitalization story in Kannapolis, in close partnership with the City and other partners like Enterprise [Community Investment]," says Margaret Anadu, Goldman Sachs Partner and head of the Urban Investment Group. "We believe that with sustained private and public sector investment, combined with a clear vision, communities like Kannapolis are poised to reach their potential and see widely shared economic growth. We are honored to be a partner in this important project."
On the government side, Mike has learned the importance of translating a vision to generate buy-in from his many stakeholders (e.g. residents, the City Council, community leaders). This requires skill and grit. Though these efforts are not easy, Kannapolis' and Durham's stories reveal the potential of perseverance.
Strong public-private-partnerships are built on transparency and communication
Peter Flotz is the developer overseeing Kannapolis' downtown revitalization projects. He credits downtown's success, in large part, to a transparent relationship with the city government. "We didn't wait until the flames were licking at the roof to say we smelled smoke. We told Mike everything," Peter shared. This type of relationship does not always exist between local governments and developers. "I've worked with hundreds of developers over the years and I've never experienced anything like this," says Mike. "We realized that we were never going to get this to work unless we had frank and honest conversations with each other."
It's also important to have an open relationship and regularly engage with the public. In a 2018 PBS interview, Kannapolis Mayor Darrell Hinnant candidly responded to the residents who hoped that their city's new downtown would look like the old downtown. The Mayor remarked, "the reality is that it is not going to be like it used to be. It's going to be something totally different … but it is going to have lots of jobs, it's going to have lots of activity." Managing expectations among the many people with vested interest in a community requires openness and honesty.
Looking Ahead
Some may argue that the stories of Durham and Kannapolis are anomalies. How many communities have a Duke University or a single owner willing to sell downtown back to a city?
While each community faces unique circumstances, the small cities thesis aims to prove that creating vibrant downtowns in places with the ingredients for renewal does not have to be anomalous. As small cities grapple with the devastation of COVID-19, they will need sparks to ignite an equitable recovery. While a spark can come in many forms, a deliberate partnership among residents, government, and the private sector is what transforms a spark into a vibrant and inclusive city center.
Jen Collins is a Fellow-in-Residence for the Beeck Center. Follow her on Twitter @JenCollins24
Ryan Goss is a Senior Associate at the Centre for Public Impact, where his work focuses on helping governments and their partners improve people's economic mobility and flourish over time. Follow him on Twitter @R_Goss1