July 7, 2023
BenCon 2023: Lighting the Path for Equitable and Ethical Public Benefits Technology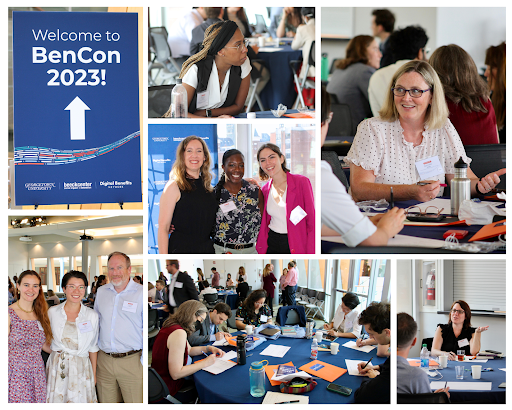 More than 120 practitioners from 70 organizations gathered in Washington, D.C., on June 13-14, 2023 to collaborate on the future of public benefits delivery at the Digital Benefits Conference (BenCon), the first-annual convening of the Digital Benefits Network (DBN) at the Beeck Center for Social Impact + Innovation at Georgetown University.
This was a critical moment to gather to support the remote access and delivery of services. In recent years, there has been historic federal investment and support for equitably transforming the delivery of public benefits, but processes continue to be burdensome and outdated technologies prevent eligible people from receiving and maintaining their benefits. Systemic issues have caused millions to lose their benefits, have funds stolen, or wait in backlogs.
The DBN believes that accessing public benefits and services can be effective, equitable, and easy if the right people, tools, and processes are in place. In this first-of-its-kind gathering, leading practitioners from various levels of government, nonprofits, academia, and industry came together to explore current and emerging research on topics including: digital identity, rules as code, automation, centering beneficiaries and workers, digital service delivery, defining goal posts for digital benefits delivery, and collaboratively building tools for the ecosystem. Read a full recap of the two-day event on the Digital Benefits Hub.
Many of the activities, conversations, and experiences were the first in a prototype. The DBN is looking forward to building on how to expand these resources to additional audiences through workshops, tools, and additional research. Reach out to digitalbenefits@georgetown.edu if you're interested in collaborating or contributing.