January 19, 2021
Bringing Design to the Public Policy Cycle (Part 1 of 2)
January 20, 2021 – By Alberto Rodriguez Alvarez + Dana Chisnell
Over the past year, we've seen human-centered design move upstream in the policy process. Rather than being brought in only at the implementation stage, designers and design practices have been active in rulemaking and in problem definition. Designers are working side-by-side with policy analysts, sketching and prototyping new policy programs, running design sprints to revamp delivery processes, and even setting up collaborative and iterative digital teams to implement policy and deliver government services.
Policymaking has a lot of design processes embedded within. Most of policy design as it is taught in graduate schools relies on data, cases, and white papers that abstract the human experience. Design practices offer ways to make the needs of the public less abstract. But it may not be obvious to policymakers how and when policy making matches up with the processes that designers use.
We saw an opportunity to help both policymakers and designers translate their methods so they can collaborate and ultimately deliver better policy outcomes. So we stacked the processes into a new map to visualize simple design techniques and tools, and how they can help during each phase of the policy cycle. We call it the UCP Cycle Map (or User-Centered Policy Cycle Map). You can also review our working document for more in-depth information on policy cycle explanations, user needs, stakeholders and user-centered methods and techniques.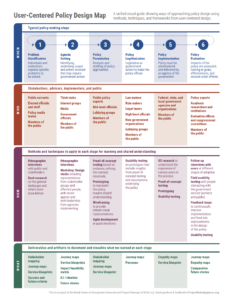 We designed this visualization to meet policy makers and designers where they are. Through examples and shared vocabulary, we matched up a classical policy analysis framework to select design methodologies and tools that make it easy to bring the public into policymaking. It is a unified visual guide that shows new ways of approaching policy design. We hope policymakers will use this map to find frameworks that suit their level of involvement with a policy process and make it easy to learn first hand about the needs of the people they want to solve problems for.
This tool can help everyone involved in government policy implementation and service delivery choose the right framework to ensure better results for both their work and the impact they strive for.
To develop the UCP Cycle Map, we interviewed practitioners and instructors from the Delivering Better Outcomes Working Group, a mix of experts brought together by the Beeck Center in 2019-20 to develop resources for human-centered design in the policy-making process. Those interviews helped us understand common characteristics between policy design and product design, and identify effective methods that should be easy to implement in the policymaking process.
We also identified a classical model of policymaking that depicted a process that most policy analysts are familiar with from the Handbook of Public Policy Analysis. It divides the policymaking process into stages according to the actors and activities typically involved. We analyzed these stages through a user-centered lens, and used what we learned from our working group members to map the common policy practices and design tools that are best suited to help policymakers depending on the stage they normally work in.
Like all models, both the policymaking model and the design process model we chose to match up are simplifications. So the UCP Cycle Map does not mark the only stages or the only stakeholders involved in public policymaking, but instead centers around the most visible. The idea is to ease anyone in the policy world into matching accessible design tools and frameworks. It focuses on the most used design frameworks and design tools that are easily available. This simplification takes into account that both the public policy and design worlds have a significant body of research.
The UCP Cycle Map is a companion to builds on our initial tool, the User-Centered Policy Organization Assessment, which we released to help policymakers assess whether a user-centered approach could be used in their processes. The Assessment tool includes the basic steps for user-centered policy design. In true agile form, we want to take user experience to continue iterating. If you test it out in your own work, we want to hear about it so we can continue making improvements and providing useful resources – reach out at dana@ncoc.org.
---
---
Alberto Rodríguez Álvarez is a former Beeck Center Student Analyst and a recent graduate from the Masters in Public Policy at Georgetown University. He is Currently a Senior Program Manager at New America. Prior to joining the Beeck Center he was an advisor to the National Digital Strategy at the Office of the President in Mexico. Follow him at @arodalv.
Dana Chisnell is a Senior Fellow at the National Conference on Citizenship and a Non-Resident Fellow in the Belfer Center Technology and Public Purpose project at the Harvard Kennedy School. She was in the founding cohort of the U.S. Digital Service in the Obama White House, and a co-founder of the Center for Civic Design. Follow her at @danachis.