September 10, 2019
Leveraging Project Management for Social Impact
September 10, 2019 | By Dennese Salazar
Human-centered design can be a powerful tool for solving problems in the social impact space. I joined the Beeck Center this summer to find ways to leverage and sharpen my design skills. I worked on social impact problems on data sharing and digital service delivery. One way I put these skills to work was to hold a workshop with my team of student analysts to train other teams of student analysts in human-centered design. My team used that workshop to problem solve a improvements for a Beeck Center program called Discern + Digest. This program consists of weekly lunches that offer a communal space for reflection on working in the social impact space. Started in 2019, it features reflections around privilege in the workplace to the boundaries between work and home. 
The dual objectives of our workshop were to learn and practice the fundamentals of the design process: problem assessment, empathy, lateral thinking, ethics, iteration, and implementation, and to use those skills to address an actual challenge at the Beeck Center.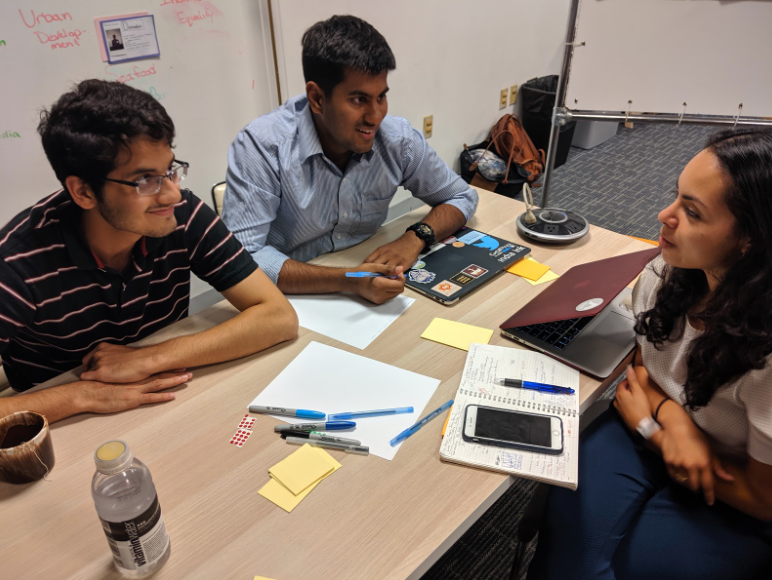 Discussions around ideation signaling a core strength of the Discern & Digest Series in the Human-Centered Design Workshop at the Beeck Center on July 29, 2019. Photo by Dennese Salazar. 
Through this workshop, we were taking on identifying recommendations and solutions for this Beeck Center program. In addition, we were also taking on the challenge of teaching design thinking as a form of problem solving to our fellow student analyst colleagues — even as we were refining those skills for ourselves. 
Stepping up as a Project Manager
As we began the process, one of our first observations was that we needed structure and organization. We spent hours talking in circles about our respective visions, what we wanted out of the workshop, and how we wanted to go about it. But with only one month to plan and facilitate the workshop, we needed to make more progress on planning so we could use findings from the workshop to develop a proposal to the Beeck team. We were also mindful that we wanted to practice our human-centered design skills throughout the planning process for our human-centered design workshop — some might call that "dogfooding."
We needed to be more focused on objectives and work purposefully at a rapid pace. With a group of many leaders taking on this project, someone needed to step up and help manage us — so I stepped into the role of project manager. Here are some ways I worked with the group to help us focus.
Goal Setting
One of the key mandates of the Beeck Center is to deliver better outcomes, and it was important to integrate this into the project's life cycle. 
This is where objective-driven meetings came in. During each of our planning meetings, we had three to five time-constrained objectives that the whole team agreed to.. At the end of the first objective-driven meeting , one student analyst compared it to a thrilling obstacle course. Her heart beating rapidly at the finale but feeling triumphant. Everyone felt productive, and that became the structure for the rest of the process. This approach to project managing was further supported by key performance indicators (KPIs), to gauge whether we had completed objectives or reached our initial goals. One of the KPIs included gaining valuable insights from the workshop to address pain points of Discern + Digest. Ultimately, we ended up collecting more than 30 issues and 30 ideas for how to address those issues. 
Earlier this year, I was part of a user experience project that created an escape room. A participant would enter the room with the goal of "escaping" the room, or solving the necessary puzzles to get out. One focus was making sure there were small victories along the way to keep the participants invested and excited, whether they ended up escaping or not. The same principles translated into managing this project, where all team members could have that same investment and excitement with small victories, in addition to the completion of the project. 
Organization
No matter how unpredictable and lengthy a project is, it should be tethered to an overarching goal. When I first learned about the civic tech space, there was a seemingly insurmountable amount of gray area that I needed to trek through to get my bearings. With team members varying schedules, we had to emphasize consistency and order. By agreeing upon objectives, timelines, tasks, and important links or outputs front and center, everyone on the team could stay on the same page. 
Project Management Tools
A paper and pen are priceless, but digital tools have allowed for the rapid advancement of shareable ideas and organization. Shared documents allowed us to collectively create, produce, and collaborate. A graphics editor software allowed us to quickly draft digestible content, such as workflows, decision trees, workshop and structures. Perhaps the most significant and challenging tools were sticky notes. The bulk of our ideas and constructive feedback emerged from stickies, and we had to learn to strike a balance between categorizing through color, size, and quantity.
To keep track of the team members and check in on work load, I input tasks onto both a project management software tool and a physical project management board. By timing each objective around our meetings and scheduling frequent in-person and email check-ins, I was able to make steady progress and complete all of our objectives on time.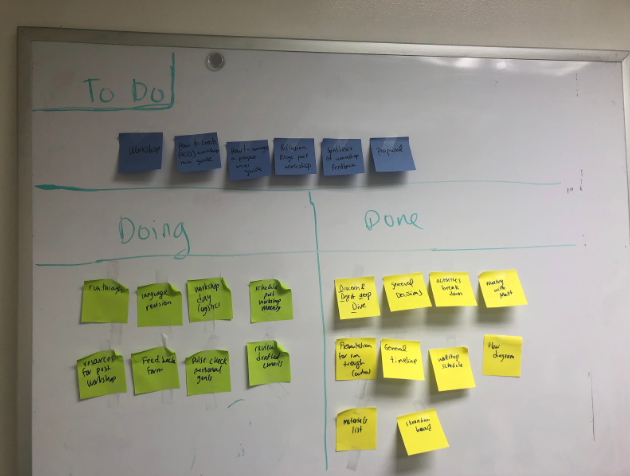 A physical project management board tracked our progress in our Beeck Center workspace throughout the entire project. Photo by Dennese Salazar.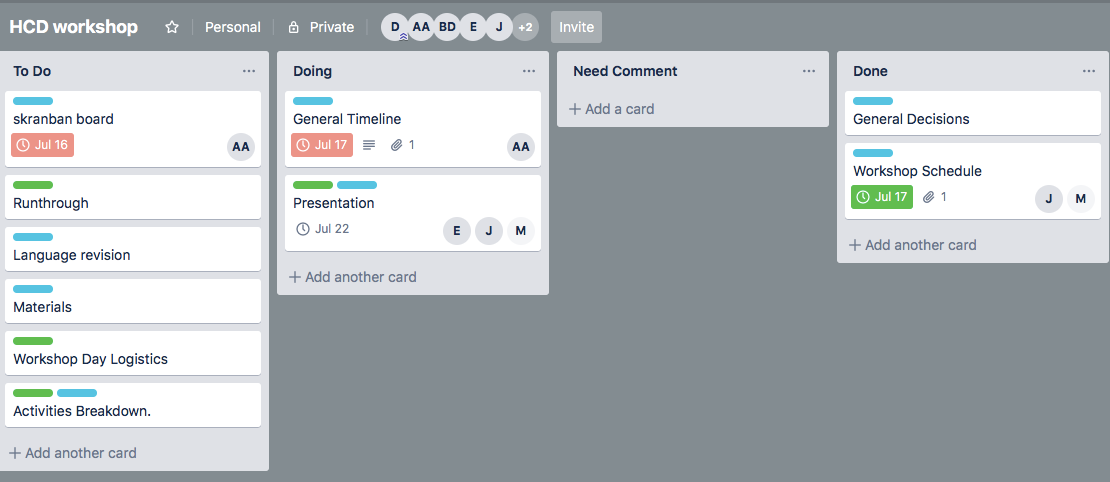 Trello, a common digital task management tool, helped make our objectives accessible to anyone on our team. 
Communication
Going into the project, I knew that communication was always a top priority in order for delegation to really work and to complete tasks. About a week before the workshop, we were discussing one of the main activities that would guide the participants through rapid ideation, which we had decided on several weeks prior. After doing a run-through, it became clear that it was too confusing to actually include, and we made the game-time decision to modify that entire part of our workshop. 
Ultimately, the reason it worked out to change course so late in the project is because we were all active participants in the run-through and discussion, we agreed to the modification, and the team members who were not present were all notified and acknowledged. This also included implementing a feedback loop through surveys, reviews, or one-on-ones, so we could get continually evaluated on our decisions. People make up the backbone of every project, so we prioritized holding regular check-ins to make sure we had balanced workloads and were mentally prepared to continue moving ahead. By bringing all voices into the conversation and documenting our decisions, we were able to handle pivots in our project. 
What We Learned
Through the management of a workshop plan through human-centered design principles, we did not set a lot of quantitative measurables. Instead, we were grounded in values and goals. Despite the management improvement, we recognized that there were 'could'ves', 'would'ves', and 'should'ves'. We had to put good ideas on the shelf due to constraints, we juggled multiple projects and had to divide our time, and introducing new tools took some adjustment. Nonetheless, we learned very important lessons: 
Expect the unexpected – not everything can be planned and we needed to be ready for pivots

Communicate effectively – no matter what decisions are made, everyone should be in the know

Plan a timeline – even if a project seems hazy, attaching dates to objectives can serve as a guideline 
At the end of the day, project management is essential to complete core objectives. It can be challenging to keep the object of the project in mind when you're swimming in decisions and ideas, but a good project manager can build those skills and help keep a team on track. Through this experience at the Beeck Center, I hope to continue equipping myself with user-centered management skills to deliver better outcomes by including everyone in the conversation around the work we are doing. 
—
Dennese Salazar was a Summer 2019 Student Analyst supporting the Data + Digital team and recently graduated from Brown University.