September 10, 2019
Using Human-Centered Design for a Better Student Experience
September 10, 2019 | By Margarita Arguello, Jillian Gilburne, Vandhana Ravi, Alberto Rodriguez Alvarez, Robert Roussel, and Dennese Salazar
As an experiential hub at Georgetown, the Beeck Center continuously teaches students real-world skills on delivering impact at scale for our Fair Finance and Data + Digital portfolios. While approaching our projects this summer, we leveraged human-centered design skills throughout the research process. As the summer progressed, we realized that we could use design principles to think through how the Beeck Center approaches the student experience as well.
Learning about human-centered design as a research methodology provided us with a new set of skills for tackling complicated problems in the social impact space. Many of us already had some familiarity with human-centered design as a concept, so we organized a workshop to refine our understanding of the methodologies and how to apply them in practice.
Our goal was to guide fellow student analysts through a set of immersive, hands-on activities. Each activity focused on a specific design challenge that would equip our participants with new problem solving tools and allow us to collect data points about the student analyst experience. During this workshop, we revisited the format of the Beeck Center's Discern + Digest weekly conversation series, events led by faculty, fellows, and staff to navigate complex topics as part of Beeck's student engagement portfolio. But first, we had to navigate the process of organizing the workshop itself while keeping in mind our original goal.
Project Management
As we designed our workshop, we quickly realized that what we thought was going to be a simple and straight-forward process was impeded by lack of structure and organization. We spent hours talking in circles about our respective visions for the workshop structure, and given our tight timeline, we needed to be making more progress.
To help us work more purposefully, we focused on three key elements. First, we collectively defined our core objective for the workshop, which we used as a "North Star". Second, we selected a project manager, a role that ensured someone kept an eye on the big picture and moved the project forward. Finally, we started time-blocking our meetings, so that by the end of each planning session a clear goal had been met and each person had an assigned task allocated based on individual team member's personal goals. We kept track of our collective work load using an online project management tool and a physical project management board to track projects and tasks.
By constraining deliberation time during our meetings and having frequent in-person and email check-ins, we were able to make steady progress and complete all of our objectives on time. The structure ensured that we all stayed on the same page, we were upfront about hang-ups, and served as a support network for each other.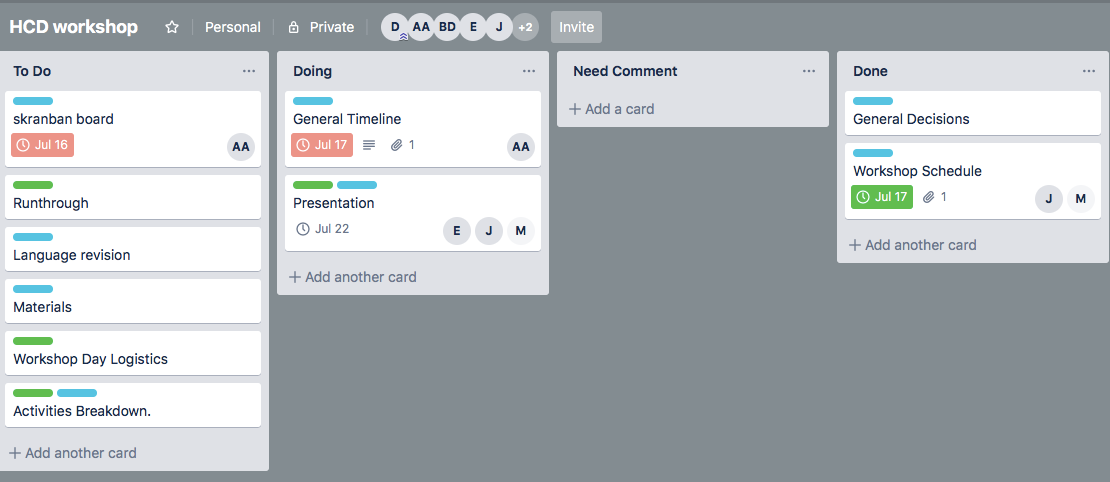 Beeck Center Student Analysts used agile methodologies to manage tasks for Human-Centered Design Workshop on Trello.
Structure
After developing a project management strategy, we turned back to our design challenge. The Discern + Digest program was a good focus for our workshop because of its transversality and familiarity. It is a core part of the student analyst experience and something that all of our participants would be intimately familiar with. Importantly, it was a program the Beeck Center was open to revisiting.
Throughout the design process, we continuously reminded ourselves to think about the participant experience. It took a lot of intentional refocusing to remember the needs and interests of those we were designing for — the participants — instead of our own learning goals around human-centered design. For example, one of our early structure proposals was to hold a design sprint where we could quickly prototype and test solutions, which would have allowed us to practice our facilitation skills while extracting student analyst insights about Discern + Digest for our own report. However, we quickly realized that if we were going to request two hours of our colleagues' time, we needed to do more than treat them like a focus group.
So, we pivoted to include a presentation section where we would break down how human-centered design can be used to solve complex social problems, the important ethical considerations of user research, and how design methodologies can be helpful for resource-constrained teams.
Once we finally delved into workshop design, quick internet searches revealed hundreds of different design activities we could mix and match as we please. There were a number of different factors that we had to keep in mind throughout the process. These included the relevance of the proposed activity to our primary workshop goals, how they would fit in with the overall narrative of our workshop, how difficult they would be to facilitate, and how long they would take. After hours of research and discussion, we finally settled on a group of activities that would expose our workshop participants to some of the essential components of a design, such as: identifying pain points, synthesizing/creating categories, solution ideation, and prototyping solutions.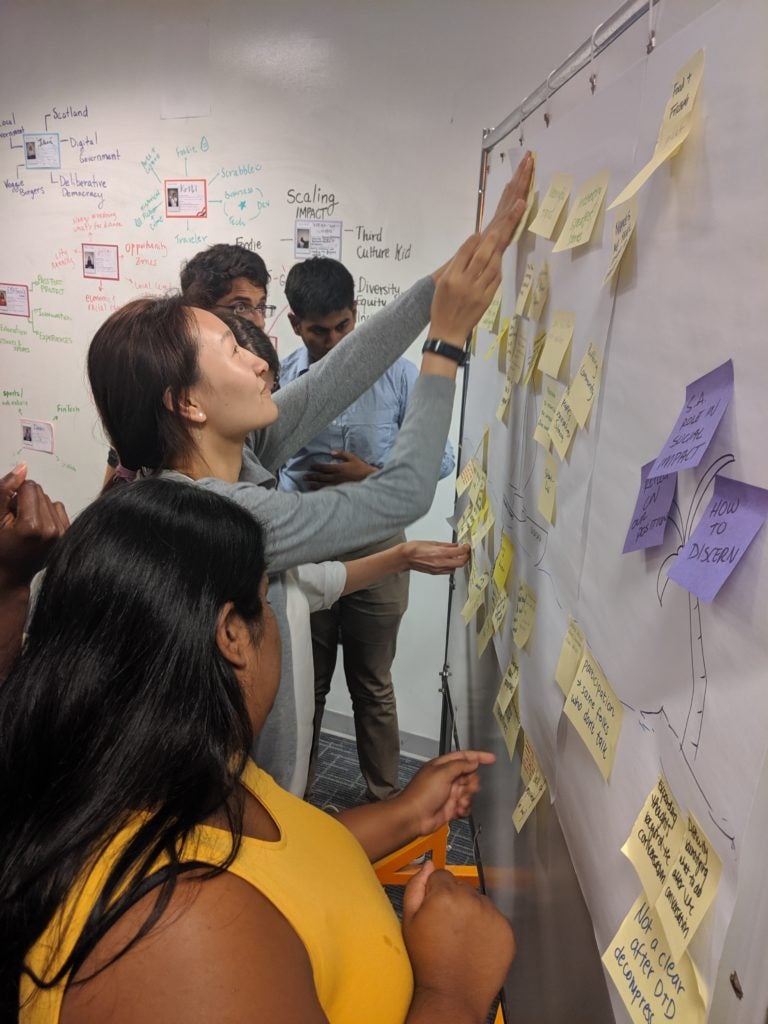 Students organized their thoughts in the Human-Centered Design Workshop at the Beeck Center for Social Impact + Innovation on July 29, 2019. Photos by Alberto Rodriguez.
Facilitation
Preparing to facilitate the workshop helped us glean new insights about ourselves and our presentation styles. By field testing our existing skills, we established our strengths and identified areas for improvement. In our post-workshop reflection, we took on higher-level topics like best practices for keeping people's attention by weaving a compelling narrative throughout an otherwise technical presentation. This exercise and the following introspection forced us to think about how to break down complex topics and confront biases and terminology that might be unfamiliar to our audience. We practiced humility when we realized that we could not achieve everything that we had set out to within our allotted period of time. We were pushed to develop a stronger growth mindset that we helped us see every challenge as an opportunity to learn in the future.
As predicted and intended, the process of organizing and facilitating this workshop pressure-tested a number of skills that we had hoped to develop throughout our summer at the Beeck Center. This left us feeling more confident and well-seasoned to bring them with us into the work we do throughout our careers.
Synthesis
The final phase of our human-centered workshop process was to synthesize the student input we received on the Discern + Digest program. We began by summarizing more than 50 different comments into key takeaways about the "current state" of the program as well as a "future state". This phase was one of the most interesting parts of the human-centered design process, as we merged our personal observations with the ideas and opportunities provided by the participants to help the series grow. This was especially true when we were analyzing the current strengths or "anchors" of the program, and various students voiced how critical the series was in building community within the student cohort.
Synthesizing the students' experiences led to a lot of ideation around recommendations for the future of the Discern + Digest series. We identified small changes that can be tested in upcoming iterations of the series to create an even more impactful experience for future cohorts of student analysts.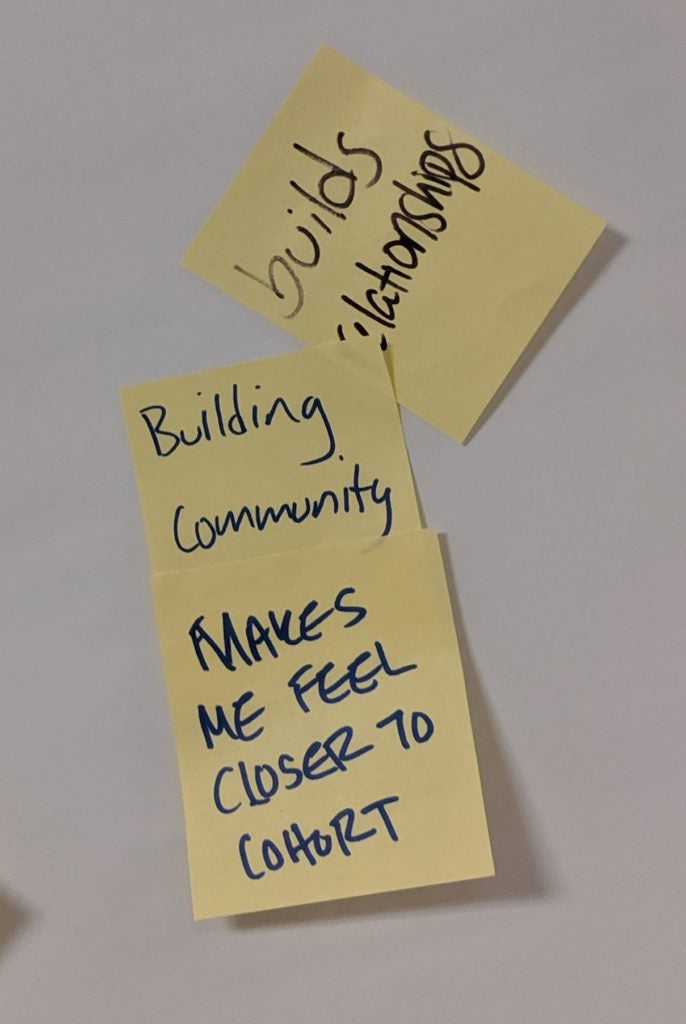 Sticky notes clustered signaling a core strength of the Discern + Digest Series on July 29, 2019. Photos by Alberto Rodriguez.
Working on Beeck's Data + Digital portfolio, we believe in championing human-centered approaches for how data is leveraged and digital services are delivered. The biggest takeaway from this workshop was one we never really anticipated: other student analysts working in different portfolios using human-centered design principles and activities in their end-of-summer capstone projects. A perfect example of meeting the Beeck Center's mission of creating impact at scale.
As we continue our journeys as students and young professionals, we will keep exploring and sharing human-centered design tools and methods with our peers across all sectors and always advocate for putting people and communities at the center of our work.
Special thanks to our two mentors in this project who were instrumental in guiding us throughout this process: Estefania Ciliotta, a Student Analyst at the Beeck Center who helped us ensure we were asking the right questions, supplied us with lots of really great frameworks and tools and was our #1 cheerleader in getting us to the finish line, and Emily Tavoulareas, a fellow on the Data + Digital team who first inspired us to develop this workshop and gave us the confidence to know that we could actually pull it off.