October 30, 2020
Pushing Forward: Laying Foundations For Public Interest Tech
Friday, October 30th | By Jenn Noinaj
There's a collective sense of purpose and responsibility in the public interest technology field that I've never experienced in any other job. The public service sector is about delivering better outcomes to the public, such as improving how individuals might receive their benefits or access services that they need, and public interest technology helps do just that. The field uses design, data, and technology to help achieve those outcomes, and ultimately serve the public good.
Since this is a growing space, it's important for us to be intentional and design ways we can positively impact this growth. Designers, product managers, and engineers come into public interest tech for the mission. People are passionate about the work. Yet, there are still opportunities for us to improve: increasing diversity numbers, championing a more inclusive culture, forging career paths for professionals with various levels of experience, and fostering knowledge-sharing between communities, to name a few.
Building upon the great work that's already been done, including by leaders at New America and the Ford Foundation, I'm excited to join the Beeck Center as a fellow this year to find and create solutions that will help contribute to the growth of individuals, teams, and communities in the public interest tech sphere. Our team aims to deliver on outcomes that are intersectional, equitable, and rooted in context for everyone to be successful, making sure we're inclusive and supportive of diverse talent. This field is vast, and understanding the ecosystem, the people, organizations, and structures that make up this space, will help us ensure that our work is sustainable.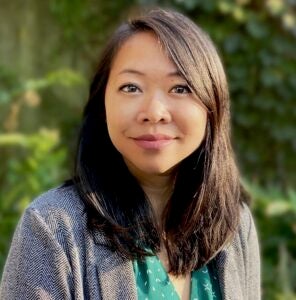 Prior to the Beeck Center, I was at the United States Digital Service (USDS) where I worked on transforming digital services across government by building capacity in design and technology and championing a user-centric culture. I supported multiple hiring actions at various agencies, including the Environmental Protection Agency and Centers for Medicare and Medicaid Services, partnering with human resource specialists to recruit and hire diverse candidates. My team worked on revamping job announcements and position descriptions to attract people from non-traditional backgrounds and established a new process to improve federal hiring practices, ensuring a fair and equitable process for applicants. I also helped shape USDS' hiring practices for designers, participating in recruiting, updating our competencies to align with the latest hiring needs, and conducting resume and portfolio reviews and interviews. I'm excited to bring these experiences and my background in human-centered design to carry the Beeck Center's Public Interest Technology Workforce project forward.
We'll be kicking off a stream of research to delve further into the field and identify findings and opportunities for us to tackle. We're partnering with the United States of Technologists and the Tech Talent Project to produce an onboarding guide to serve as a starting point that can be customized by teams as needed. We're looking at ways of building up a professional association to facilitate knowledge-sharing, community building, and training for folks interested in this field. I'm also excited to help out on other projects at the Beeck Center, and am currently putting together a guide on Discovery Sprints, a method to quickly understand a problem space and identify actionable next steps. These projects will build upon all of the existing resources that the Beeck Center already has published, such as how to get started in the public interest tech field and recommendations for digital transformation in government.
How You Can Help Us Now
Our project is looking at ways we can support those who work in this field, ensuring the workforce has the skills, tools, and resources they need to deliver on outcomes to the public. In order for us to identify how to institutionalize career support resources like professional development opportunities, mentorship models, and training programs we need to understand how best to meet the needs of those currently doing the work. I'm working with the Beeck Center's Vandhana Ravi to conduct a Public Interest Technology Workforce Survey aimed at capturing the experiences, backgrounds, and demographics of the individuals in the field. We're hoping to hear from anyone who identifies as a public interest technologist (researchers, designers, engineers, product managers, contractors, volunteers, students, etc.) to make sure we are considering the broadest perspectives and experiences. Based on the results, our plan is to publish a demographics report with the trends and opportunities from the survey, as well as follow up with individuals to have more in-depth conversations.
If you're a part of the Public Interest Technology field, please consider taking the survey and helping us share it far and wide with your colleagues. The survey will close at 11:59PM EST on November 30th and we will look forward to sharing the findings with you so we can all work to improve a more inclusive field.
Jenn Noinaj is a Beeck Center Fellow leading our Public Interest Technology Workforce portfolio. You can follow her on Twitter and find her on LinkedIn.