The New Government Appointee Guidebook
Innovation in government is about uncovering new ways to positively transform the lives of individuals and engage them in shaping their government. It not only involves transitioning legacy structures, but modes of thinking; embracing new technologies and ideas. In this guidebook we offer opportunities to better understand the challenges government appointees may face and new approaches in addressing them. 
In Part 1—Creating the Conditions for Change—we show how government innovation hubs have dealt with the cross-cutting factors that impact innovation. These efforts include, among other things, managing bureaucratic barriers, harnessing the power of the peoples' ideas, building open, transparent, and trust-based systems, enabling an internal culture that supports innovation, and forging unlikely partnerships. 
In Part 2—Tech Competencies—we look at how federal leaders can ensure their agencies have the key technical competencies needed to deliver on critical missions. Alongside the report, we've created a set of competency cheat sheets based on Tech Talent for a 21st Century Government—a guide for bringing technology and innovation talent into government. Using the cheat sheets, teams can quickly sort and identify key examples of each tech competency at work in the federal government—and hopefully discover some of their own.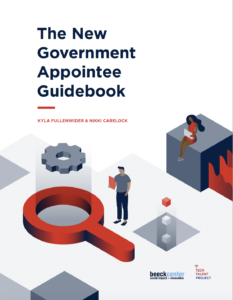 Additional resources
Blog: How New Federal Leaders Can Prioritize Innovation Wherever They Land [October 1]