November 11, 2020
Skills Needed for Government Digital Service Professionals
This is the last in a three-part series on the American government digital service workforce. 
---
November 11, 2020 – By Hayley Pontia
At the Beeck Center, our work in Public Interest Technology Field Building is focused on establishing greater credibility and capacity for those working to deliver services to the public.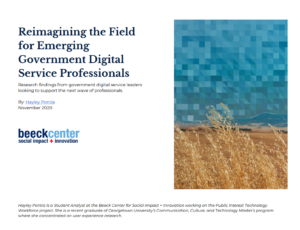 As a part of my research surrounding emerging professionals in the government digital service delivery field, I interviewed leaders within the field to learn more about the skills, experiences, programs, and personality traits relevant to the field. The more I interview people who work in the field of government digital service, the clearer it becomes that our federal government needs workers with different experiences to be involved in decision-making processes. Although no team is complete without those who've worked in government before, our perceptions should be shifting towards a skillset and mindset more representative of younger workers. Increasing the talent pool with a more diverse set of voices who bring a unique set of skills and identity makeups should be a main focus of all government teams. However, just because a team actively makes space for a diverse group of individuals, it doesn't always mean that space is inclusive. Actively making decisions to improve existing staffing systems and how jobs are traditionally evaluated is an important note to make. Considering this, I asked 10 government digital service workers what they believed to be the most important skills for emerging professionals within their field. Many of their responses echoed one another and centered on these themes.
1. Focus on mission-driven work 
"Government is really behind. Don't judge employees within the government who are working to fix these problems. Don't come in with a savior complex." – Former USDS Director 
A passion for mission-driven work empowers emerging professionals as a common core value. They are dedicated to serving others and are willing to educate themselves on topics that are important parts of users' lives. Real impact is a main priority for the products and services they create. Within local, state, or federal government alike, they realize the magnitude of their work's ability to drive change. 
2. Bureaucracy hacking and preparing for slow wins 
"Doing big things in government takes a long time. Don't be that afraid of multiple year projects." – Chief Technology Officer  
Unlike the private sector, rapid change has an increased risk when implemented in the public sector, so a willingness to adapt and understand procedural nuances is an important part of a government digital service. Ideas, creation, and implementation may take much longer to enact, requiring patience and ability to reiterate innovations consistent with emerging technologies.
3. Explaining technology to various users
"Don't be afraid to step outside of the box – take an effort to learn other things in your role." – Former USDS Director 
It is important to understand how technologies work without actually implementing them yourself. A broad understanding of the way technologies serve people and what they are capable of is key to serving on digital service teams. Members of a digital service team all have varying backgrounds that brought them to their roles; it is important to maintain an interdisciplinary approach when problem solving and working together as a team.
4. Advocating for underrepresented issues
"One thing that is challenging for me is far more difficult for someone else and for them to be taken seriously. We need to make more space for those people." – Former 18F Consultant 
There are many instances when certain groups are left out of the equation whether intentional or not. It should be every level of the government's duty to shine a light on these inequalities and how a historically underrepresented group may be affected. This includes providing ample research and support to address these issues, and requires moving past pushback. Serving as a sounding board for those who may traditionally be marginalized is also necessary. 
5. A surplus of empathy
"I had a long standing understanding of the importance of trust in relationships and empathy towards those who are in hard situations. Government is an everyday hard situation." – Former 18F Consultant 
Government is often stereotyped as monolithic in process, leaving little room for understanding and humanistic qualities, but this is most certainly not the case. Most public service employees must possess high levels of empathy, navigating different experiences and circumstances by understanding others' wants, needs, and pain points. Their jobs are to represent and understand those who they are serving. Without a semblance of awareness of the needs of residents, it is difficult to make accurate decisions that represent the population. An emphasis on human-centered design thinking allows professionals to understand, create, and modify systems to better serve those they are affecting. This allows for great amounts of quantitative and qualitative research in order to understand the environment. 
6. Development of "power skills"
"A job in this field is 90% about building trust and relationships." – Former USDS Consultant 
In one of my interviews, a leader in the field described often overlooked skills, traditionally labeled as "soft skills," or more ideally, "power skills," as some of the most important to government success. Power skills are commonly defined as technical and non-technical, serving as a hybrid for effective problem solving and communication. There are seven power skills: (1) problem solving, (2) decision making, (3) judgment, (4) communication, (5) self management, (6) collaboration, and (7) value clarification. Each skill builds off of the other serving as an ideal ecosystem of productivity. Whether as a combination of multiple or expertise in one, these skills help produce successful outcomes in government digital service teams and other innovative teams within government. 
Although there are currently limited entry-level positions available in the field, it is important to know that there is an acknowledgement of the relevance of emerging professionals in the field. It is also important to recognize the importance of transparency and accessibility of resources in order to establish a workforce prepared to use these skills. Expecting all digital service professionals to have access to developing these resources is not a fair way to judge success considering the current ecosystem. Providing more resources for emerging professionals is a key objective in our work at the Beeck Center. 
While this list is intended to provide a macro view of what may be valued of government digital service professionals, it is important to celebrate differences in approaches, experiences, and exposure to obtaining these skills. Providing clearer, more accessible pathways for emerging professionals is just the beginning. 
Hayley Pontia is a student analyst at the Beeck Center. She earned a Master of Arts in Communication, Culture and Technology in May 2020 with a focus on user experience research and is currently looking for a pathway into public service. Connect with her at https://www.linkedin.com/in/hayleypontia/. Other examples of her portfolio can be found at  https://www.hayleypontia.com.