November 11, 2020
Why Governments Should Prioritize UX for Everyone
This is the second in a three-part series on the American government digital service workforce.
---
November 11, 2020 – By Hayley Pontia
Before starting graduate school, I thought I knew little about user experience (UX) and what it meant, but I soon realized that it actually encompassed what I'd already been doing since I began my post-secondary education. I studied psychology and communication at the University of Pittsburgh before coming to Georgetown to pursue a career at the intersection of social impact, design, and research. Working with nonprofits and organizations such as the Beeck Center, I realized the value user experience brings to serving all people for whom government was intended, not just those government thinks they are positively affecting. What I really appreciated about the premise of UX, was the inherent effect of serving the public by creating new or modified solutions to existing, systemic problems.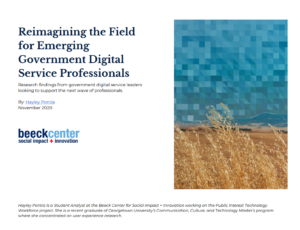 Those with lived experience know best what can help them and how they would like to receive support. Although this concept of UX research is still relatively new in government, it is becoming the norm as more governments focus on the best way to serve the public. At the core of UX is ensuring that users find value in what you are providing. 
In any public sector organization, UX methods are imperative to successfully create, deliver, implement, and improve systems. It is easy to rely on third-party vendors that offer easily accessible service delivery, tailored to their specific team and there is nothing wrong with that. But a basic understanding of human-centered design within the public sector organization can help create efficient, innovative, and cost-effective solutions in-house, and ensure that any services provided by vendors align with the same characteristics. For example, the New Jersey Office of Innovation and Colorado Digital Service have both created dedicated teams that are able to cost-effectively deliver services, such as a streamlined unemployment website and COVID-19 Information Hub through human-centered design (HCD) influenced procurement processes. Making these efforts standardized and easily accessible is an imperative towards better serving all people.   
In fact, it's helpful for any government employee to receive HCD training so they can ensure their work truly values the ideas of others alongside their own. What becomes difficult is sourcing and providing a healthy space for UX professionals in government teams and the needed bandwidth for establishing this government wide initiatives similar to Usability.gov's stance on a user-centered approach. Alongside those with more technical skills, the voices of those historically considered to possess "soft skills" should be seen as compliments rather than opposites. Without the ability to analyze and deconstruct complex systems, language, and products, our government remains at a disadvantage when it comes to delivering services.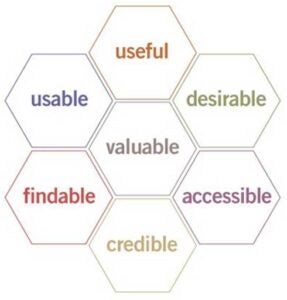 In order to better understand the breadth of problems UX research and design can solve, the table below describes potentially effective examples of UX within government. These, along with other methods, can be taught through various platforms such as online training, bootcamps, and educational YouTube videos in order to better develop an iterative process of service delivery through internal teams. Bloomberg Philanthropies funds innovation teams (i-teams) that encourage  city leaders to use a design and innovation lens to tackle big problems and deliver better results.
Each method can be used in almost any stage of the digital service lifecycle, although the Nielsen Norman Group suggests specific guidelines in their UX research cheat sheet. Usability.gov suggests in order for there to be a meaningful and valuable user experience, information must be useful, usable, desirable, findable, accessible, and credible.
---
[table id=8 /]
---
To aid in this process, the Beeck Center's work on Public Interest Technology Field Building is focused on ways to build credibility and capacity for the field of government digital services. Within the umbrella of digital services, roles such as UX researchers and designers are slowly becoming more common in government innovation teams. Through our research understanding the government digital service field and what workers in this field need, we want to help strengthen those existing roles and establish more pathways for promotion and career support, as well as help other teams recognize the value of these skills and create new roles. We are partnering with and building on the work that people in the civic tech and digital government community have been leading for years, including organizations like the AGL Association which is providing support for the community of government professionals working in tech and digital service roles. 
Becoming more informed about what residents experience when using different government platforms will not only improve the quality of the platforms and the work of the employee teams, but the reputation of the government as committed to serving people. It ultimately leads to greater trust in government when the systems work well and services are seamlessly delivered.
Often, collective memory will reinforce the narrative that the government is just "doing the best they can" with the resources they have, but we should be asking more of our government, while also expressing patience, to create better services when they affect such a large population. The foundations of UX make this possible. By employing empathy and methodological research we are able to expect thoughtful solutions to these complex problems that have the potential to change our lives. 
Hayley Pontia is a student analyst at the Beeck Center. She earned a Master of Arts in Communication, Culture and Technology in May 2020 with a focus on user experience research and is currently looking for a pathway into public service. Connect with her at https://www.linkedin.com/in/hayleypontia/. Other examples of her portfolio can be found at  https://www.hayleypontia.com.