September 11, 2020
Stepping Off the Linear Career Path
September 11, 2020 – By Joanna Moley
When I graduated from Georgetown University in 2018, I thought I should strive for a linear career path, one that would end in the all-important dream job. Now, I can admit I don't even know what my dream job might be. Internship experiences and two years in the workforce have taught me to approach every professional opportunity with intentionality and embrace the skill-building process instead of narrowly focusing on a specific aspirational role.Thus far, I have started each of my jobs with a hypothesis about what I want to learn and where the opportunity might take me in the long term. Just like in school, I have found that it's ok when your hypothesis is wrong, you simply figure out why and pivot.
During the summer of 2017, I had the privilege of being selected as a Beeck Center GU Impacts fellow working for Yanbal International, a global for-profit company with a social impact mission. I was based in Lima, Peru and despite being nervous about working in Spanish for the first time, I took the position in order to test the hypothesis that my Latin American Studies degree in the School of Foreign Service meant I wanted to work in Latin America. During my 10-week fellowship, I collected valuable information about what I wanted and didn't want in my post-graduate career. While I loved the social impact focus of my work, I felt unsatisfied within the corporate structure of the enormous company. It was sometimes difficult to adjust to living abroad, but I also found traveling throughout Peru and making new local friends exhilarating. I noticed that the experience of living abroad was enriched by the support and mentorship provided by the Beeck Center back home, which clued me in to the potential structure of international work I might be interested in after graduation. I took note of every aspect of this professional experience and emerged at the end of the summer with more fully formed goals for my upcoming job search.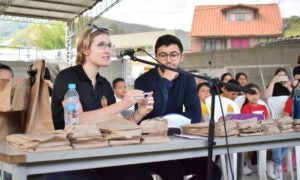 During my fellowship, I solidified my desire to work in Latin America and gained the skills and connections to do so. For my first post-graduate job, I tested a new hypothesis that my ideal job would include working abroad at a small, local NGO, and accepted a position on the communications team of an international education organization based in Medellin, Colombia. I quickly realized that communications is not my calling, and positioned myself to earn a promotion to the role of International Volunteer Coordinator. In this role, I hired and managed a group of international volunteers, all older and more experienced than I was in international service. While I was initially intimidated by this dynamic, I reached out to my personal and professional network for support and resources that helped me successfully tackle challenges such as navigating the Colombian visa process and leading volunteer onboarding and trainings.
After working abroad for a year, I felt surer than ever that my career path was centered around Latin America and social impact work. However, the frustrations of a tiny organization led me towards my next hypothesis, that I would be most satisfied working at a large international NGO with a focus on Latin America based in the US. Specifically, I was looking for a position where I could gain grant management and other transferable administrative skills that my previous position in Colombia had not necessitated. This brought me back to DC, where I currently work on the Latin America team at a mid-sized international NGO. When I began this job, I felt intimidated by all the unfamiliar procedures I had to learn just to catch up, but, through hard work, I learned the administrative skills I needed to become a valuable team player. Additionally, my previous experience at a small, local NGO in Colombia gave me unique insight into the operating capacities of our team's partners in Latin America, which is invaluable to my programmatic work. Coming from such a small organization, I initially felt anonymous on a larger team. However, I soon learned how to advocate for myself in order to earn more responsibility, and how to lean on my team members for support and mentorship.
As ridiculous as it feels to write "looking back on my career so far…" when that career has only spanned two years, I have learned some valuable lessons that would certainly surprise my college self. I now believe that building a career is not a linear exercise, but is an ever-evolving process, and the jobs you end up in at the beginning of the journey are not as important as the skills you build and the connections you add to your network along the way. I am extremely grateful to the people who have mentored and supported me throughout my professional experiences thus far, and I have no regrets about the paths I have taken. In every position, I built the skills and contacts to help me to move on to the next one, each time getting closer to the fulfilling career that I am striving toward. The key has been seeking out professional experiences and mentors who give me room for growth and push me out of my comfort zone. Each new professional opportunity should be a tiny bit terrifying, and it's normal to feel overwhelmed, because that's when you'll find the exciting opportunity to grow.
---
Thinking about how to navigate your career journey with intentionality? Check out the Beeck Center's Social Impact Navigator to gain a better sense of self and the mindsets and skills you want to develop in becoming a social impact leader.
---
Joanna Moley is a 2018 graduate of the Georgetown School of Foreign Service and 2017 GU Impacts fellow. Connect with her at joannamoley[at]gmail[dot]com