April 26, 2022
Foundation of a Successful Data Project: Engaging Your Community
This blog is the fifth in an ongoing series by the State Chief Data Officers Network  at the Georgetown Beeck Center reflecting the best practices and lessons learned by our cohort of participants in Data Labs. The Data Labs initiative helps states launch data-driven economic recovery projects as a result of the COVID-19 pandemic.
April 26, 2022 – By Vinith Annam
Soliciting input from community members, especially those with marginalized identities, gives practitioners and policymakers indispensable insight that anchors data project design in the needs of the people most impacted. Community input allows project teams to crowdsource ideas for effectively deploying organizational resources and identifying data solutions that maximize public good. 
Designing and implementing a successful community engagement strategy builds a trusting relationship between constituents and those who serve them.
Lack of Community Engagement in Newark
To understand why community engagement matters, look at Newark, New Jersey's unsuccessful attempt to reform its failing public school system back in 2010. At that time, Facebook CEO Mark Zuckerberg, New Jersey Governor Chris Christie, and Newark Mayor Cory Booker appeared on The Oprah Winfrey Show to announce a whopping $100 million investment to improve educational outcomes for Newark's students.
Unfortunately, Booker and Christie did not adequately consult with the city's residents on how to effectively implement these funds. They wanted to move quickly and avoid anything that might impede progress on implementation and ultimately derail the whole effort, so they sidestepped this critical part of the process. Instead, the city assembled a board of non-Newark residents to oversee reform efforts, hired a non-Newark resident to serve as superintendent of public schools, and brought in external consultants who were paid $21 million for their services. 
The work yielded no significant improvement in educational outcomes.
Howard Fuller, a former superintendent of Milwaukee's public school system said, "Booker and Christie decided to do this without the community, that was their biggest mistake." After the failed effort, Zuckerberg himself stated that it's important to "[listen] to the needs of local educators and community leaders so that we understand the needs of students that others miss."
Taking a Thoughtful Approach to Community Engagement
If Christie and Booker had collaborated with Newark's residents to design and implement school reforms, students likely would have seen improved educational outcomes. It's worth noting that although Newark's failed reform efforts took place nearly 12 years ago, the policy issue and community engagement challenges are still relevant to this day.
In February, Data Labs invited Laura Cole and Amy Mahler — Program Director and Policy Fellow, respectively, at the Mayor's Office of New Urban Mechanics (MONUM) in Boston — to share their multistep approach in developing an effective community engagement strategy: 
Understanding the interested community members

Assessing the ability to work in a collaborative way

Determining an appropriate level of community engagement

Co-creating and co-evaluating impact metrics
MONUM's engagement strategy draws inspiration from Code For America's human-centered work that relies on forming effective partnerships with outside groups and civic technologists. MONUM's civic-minded approach is documented in their research strategy guide and exemplified through initiatives such as the Housing Innovation Lab.
Understanding The Interested Community Members
A critical part of launching a community engagement strategy is to identify who will be interested in the project. This foundational work plays a critical role in determining who the project will impact. Be sure to pay attention to community members who have a high level of interest and low level of influence, as they can often be missed or ignored. 
In Newark, people involved in the public school reform initiative did not adequately consult community members who had a high level of interest and low level of influence (e.g., parents, students, and educators). The same people furthermore did not consult groups that had a high level of interest and influence (e.g., unions, city council, and school board). This choice damaged opportunities to ensure the $100 million grant actually served the needs of the people it was meant to positively impact.
Asking the questions below will help set realistic expectations on how to manage interested community members.
Learn About Community Members Who Are Interested In The Project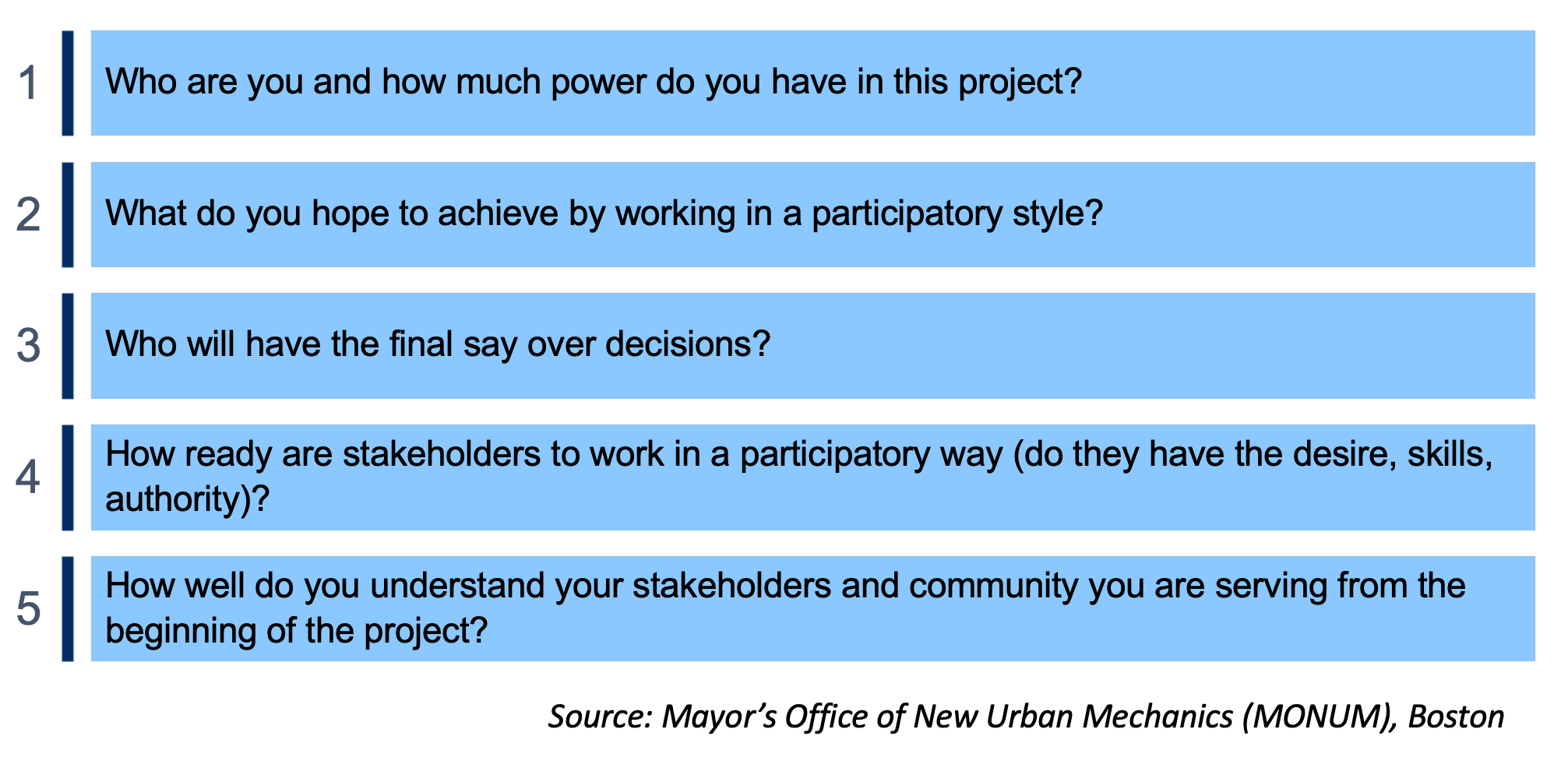 Assessing The Ability To Work In A Collaborative Way
Project teams must think about their own ability to work with community members in a collaborative way. Awareness of a project team's capabilities and constraints will increase project impact because there will be greater clarity on the roles, responsibilities, and resource needs of each contributing stakeholder. 
Asking the following questions will help inform the readiness of project teams.
Assess The Readiness To Collaborate With Community Members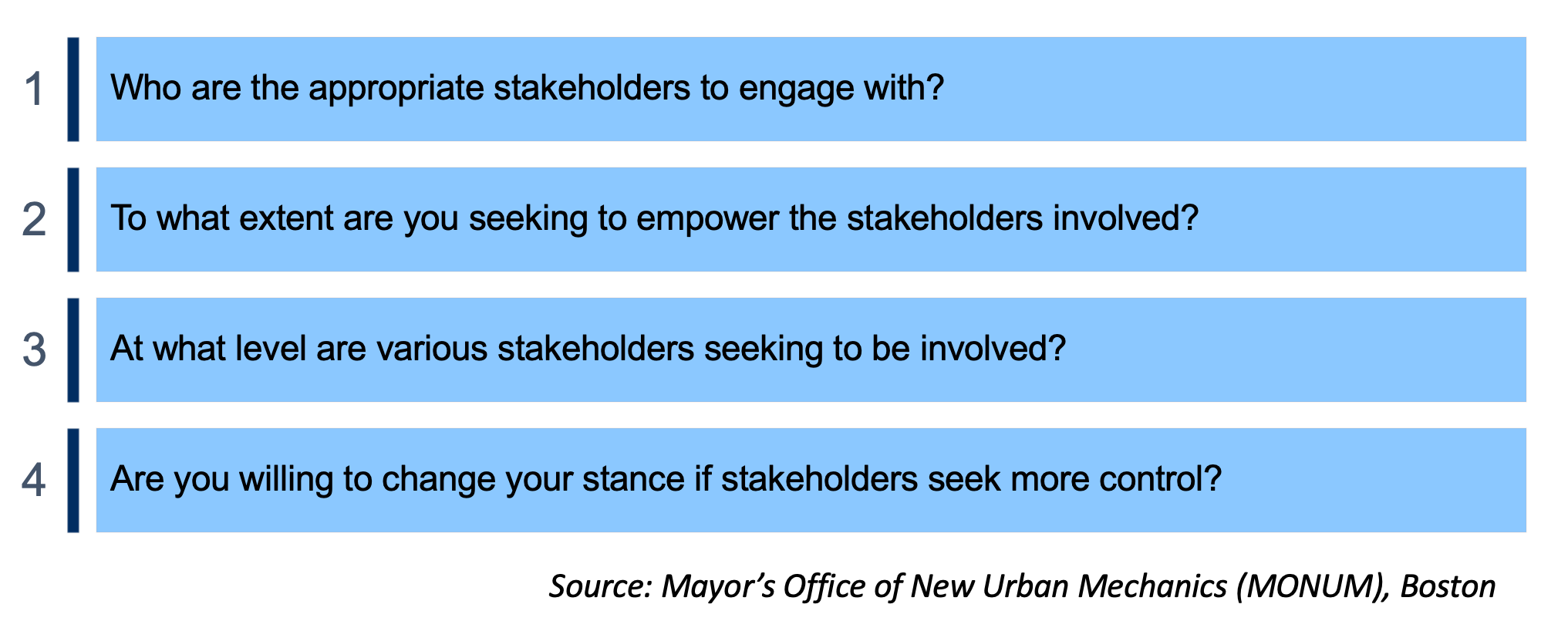 Determining An Appropriate Level Of Community Engagement
Project teams eventually need to determine what level of community participation is appropriate. Using the Ladder of Participation can help make that determination. 
The Ladder of Participation has five levels that range from completing a project with less community participation (sharing information) to completing a project with more community participation (providing support for local initiatives). Answering the questions posed earlier in this piece about better understanding community members and assessing the ability to work in a collaborative way will help teams determine what position to take. 
It's important to note that one level of community participation is not necessarily better than another. What matters is picking the level that's suitable based on the goals and circumstances of each unique project.
Looking at Newark, Booker's approach to school reform could have conservatively started at the Information stage and progressed up the ladder to an appropriate level of community participation.
The Ladder of Participation: Five Levels of Community Engagement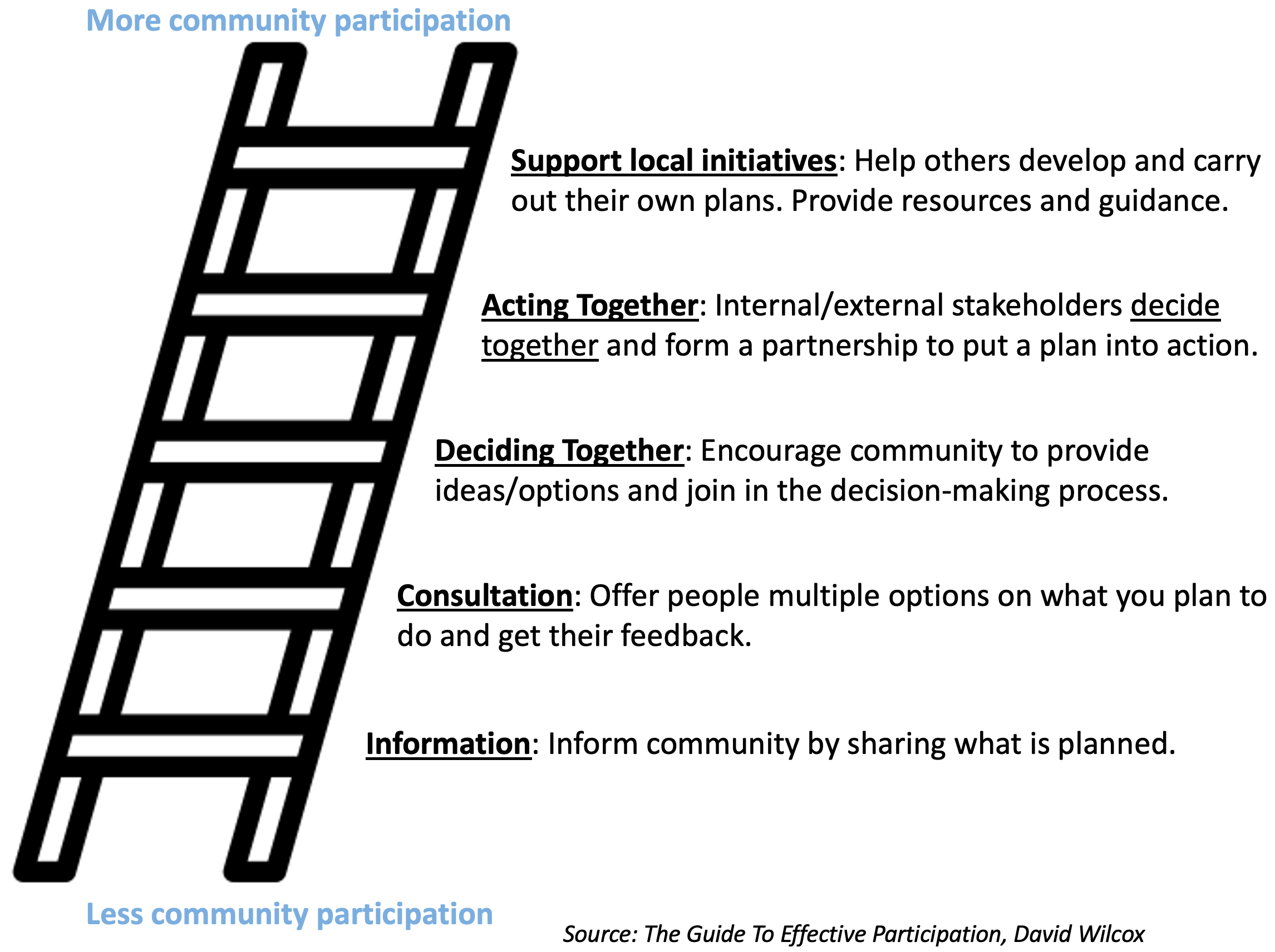 Co-creating and Co-evaluating Impact Metrics
Project teams should consider co-creating and co-evaluating metrics with community members to measure project impact. Doing so will help center the project work taking place on intended community outcomes and experiences, as opposed to less community-focused performance measures. Marc Hébert — a UX and Service Design civil servant at the City of San Francisco — developed a data experience diagnostic to assist with determining appropriate metrics to use.
Project teams can increase their public impact by having community members contribute to a project. Practitioners and policymakers often work on initiatives that benefit their constituents, but unintentionally miss out on incorporating the perspectives and experiences of those they serve. Taking a community-first approach to project work may be a new way of operating for many teams, but seeking out and listening to community members is an important investment that can pay off long term as public services are effectively delivered. 
Vinith Annam is a Program Manager for the Beeck Center's State Chief Data Officers Network. You can find him on LinkedIn.