August 5, 2022
Potential and Progress for Benefits Eligibility: A Recap of Rules as Code Demo Day
By Shanelle Roberson, Ariel Kennan, and Elle Meyers
August 5, 2022
Every day millions of people across the United States are using digital systems to find out if they are eligible for programs and then apply, enroll, and manage their benefits. In order to implement those digital systems, software developers, and sometimes program and policy teams, interpret the laws, regulations, and policy documents into computer code. 
While this may sound straightforward, in actual implementation it requires going to many sources, a tangled mess of rules that may conflict with each other across programs and vary by state, and require immense interpretation of the goals in a policy as it transforms into code. These efforts are then compounded when there are changes or updates to rules. And unfortunately, this effort is duplicated across locales and organizations for every digital system for benefits access. Additionally, it creates a gap in transparency between how decisions were made, and in the end, determinations about what kind of support an individual or family receives. 
This where rules as code provides a solution—creating the ability to harmonize eligibility rules and resulting code, digitize legislation and policy documents, and enable more cross-benefit eligibility screening and enrollment. Rules as code would also aid in efficiency and improve the equity of benefit delivery by applying new approaches to eligibility requirements for core safety net programs and lessen the gap between policy and service delivery for all. 

Building on our February 2022 report Benefit Eligibility Rules as Code: Reducing the Gap Between Policy and Service Delivery for the Safety Net, the Beeck Center's Digital Benefits Network (DBN) recently held a convening to share progress and potential in digitizing benefits eligibility and to begin addressing how a national approach could be started. At Rules as Code Demo Day, on June 28th, 2022, there were eight demonstrations of projects and code followed by a collaborative problem-solving session on how to continue advancing rules as code for the U.S. social safety net. Throughout the event, we captured notes, quotes, resources, and best practices on our Rules as Code Demo Day Collaborative Space document, which continues to be open for viewing and comments.
Watch the Highlights 
We learned from groups in the U.S. and abroad that have been pioneering how to approach benefits eligibility rules as code. They shared processes and best practices that can be adopted and scaled as part of a national approach. 
Benefits Eligibility by Government Teams
Government teams from 18F, New York City and France are furthering benefits eligibility screening with rules as code. 
We kicked off the day with Alex Soble of 18F and Mike Gintz of 10x presenting their Eligibility APIs Initiative that explores whether APIs and rules as code might improve the efficiency and effectiveness with which federal public benefits programs communicate their policy to states. They demonstrated their original prototype, and how the open source code has now been extended into several initiatives.
We then heard from Song Hia of the NYC Mayor's Office for Economic Opportunity and Ethan Lo of the NYC Office of Technology and Innovation who demoed the NYC Benefits Platform Screening API which provides machine-readable calculations and criteria for benefits screening that power the ACCESS NYC screening questionnaire. This makes it easier for NYC residents to discover multiple benefits they may be eligible for. The City is now extending the API to support the new MyCity platform, a one-stop shop for all services and benefits. 
The first half of the day was wrapped up with Thomas Guillet, who contributed to Open Fisca France and beta.gouv. He demoed the code for Mes Aides—or My Benefits—which is France's social benefit simulator that leverages open source rule models for over 600 benefits while keeping the displayed complexity to its minimum. 
Benefits Eligibility by Nonprofits 
Nonprofits are a critical component of benefits delivery, and several organizations, including Benefits Data Trust and mRelief are using technology as part of their core offering. 
We continued our demos with Daniel Singer and Preston Cabe from Benefits Data Trust.  Benefits Data Trust provides benefit outreach and application assistance services in seven states. Using Benefits Launch, their in-house interview and rules engine, they support two hundred contact center employees as they screen and apply thousands of clients each year. They also offer a self-service screener, Benefits Launch Express. Additionally, they offer an eligibility API to integrate with other services. 
Executive Director Zareena Mayn and Chief Technology Officer Dize Hacioglu of mRelief demoed the code for their Supplemental Nutrition Assistance Program (SNAP) eligibility screener. mRelief is a women-led team that provides a web-based and text message-based SNAP eligibility screener to all 53 states and territories that participate in SNAP. They demonstrated how they have modularized their code to host federal program rules and state-specific rules. 
Analyzing Policy Through Rules as Code  
We saw the potential for analyzing policy through tools from the Atlanta Federal Reserve, National Center for Children in Poverty, MITRE Corporation, and PolicyEngine.
Seth Hartig from the National Center for Children in Poverty (NCCP) and Bank Street College demoed the Policy Rules Database (PRD), a collaborative effort between the Federal Reserve Bank of Atlanta and the NCCP. The primary purpose of the PRD is to simplify the interpretation of all programs by creating a common structure and common terminology. The repository allows for research on public assistance programs and tax policies and helps users model benefits cliffs on career pathways. The PRD is supported by a technical manual with pseudocode that helps guide integration and usage in other platforms. 
MITRE's Joe Ditre and Frank Ruscil demoed the code for the Comprehensive Careers and Supports for Households (C-CASH). The MITRE team expanded the accessibility of the Policy Rules Database and the Cost-of-Living Database (the prior demo) by creating a web service API and a front-end Window's application called C-CASH Analytic Tool (CAT). CAT provides a more scalable, flexible, and portable functionality that allows end-users to generate various households to run eligibility scenarios across different U.S. counties and states. They are currently working to create a national data hub and analytics tool, starting with utilizing U.S. Census data and populating the data warehouse by pushing large amounts of data through the PRD. 
We wrapped up the demos with Max Ghenis and Nikhil Woodruff, the founders of PolicyEngine. The PolicyEngine web app computes the impact of tax and benefit policy in the US and the UK. With PolicyEngine, anyone can freely calculate their taxes and benefits under current law and customizable policy reforms and estimate the society-wide impacts of those reforms. Policymakers and think tanks from across the political spectrum can analyze actual policy.  PolicyEngine is built atop the open source OpenFisca US and UK microsimulation models and they are building an open unified data set utilizing data from the Policy Rules Database, Current Population Survey, Survey of Consumer Finances, Consumer Expenditures, tax records, and IRS Public Use File. 
Advancing Together
In order to have a human-centered safety net, we must reduce the burdens created by the rules for governments and delivery organizations and most importantly, for individuals seeking benefits.
We saw throughout the day that there are many ways to turn eligibility rules into code and many ways to do benefits outreach, awareness, and applications. These projects demonstrated that open and shared code and rules help extend services into many channels for helping people access benefits and analyzing policy. We heard from several speakers about the need for a shared ecosystem for an open source model, backed by the ecosystem of partners including states and municipal technology staff, open source community, nonprofits doing benefits delivery, and individuals seeking benefits to advance rules as code for the U.S. social safety net. 
The rules as code movement is nascent but quickly growing and proving successful in other countries. It is imperative that the United States begin formalizing an approach to adopting rules as code for the safety net to lessen the gap between policy and service delivery in digital systems. We hope that this movement continues to gain traction and we can achieve the vision of a strengthened social safety net for all. Stay tuned for news from the Beeck Center's Digital Benefits Network on ways to get involved and drive this work forward.
To stay up-to-date with the Digital Benefits Network, please subscribe.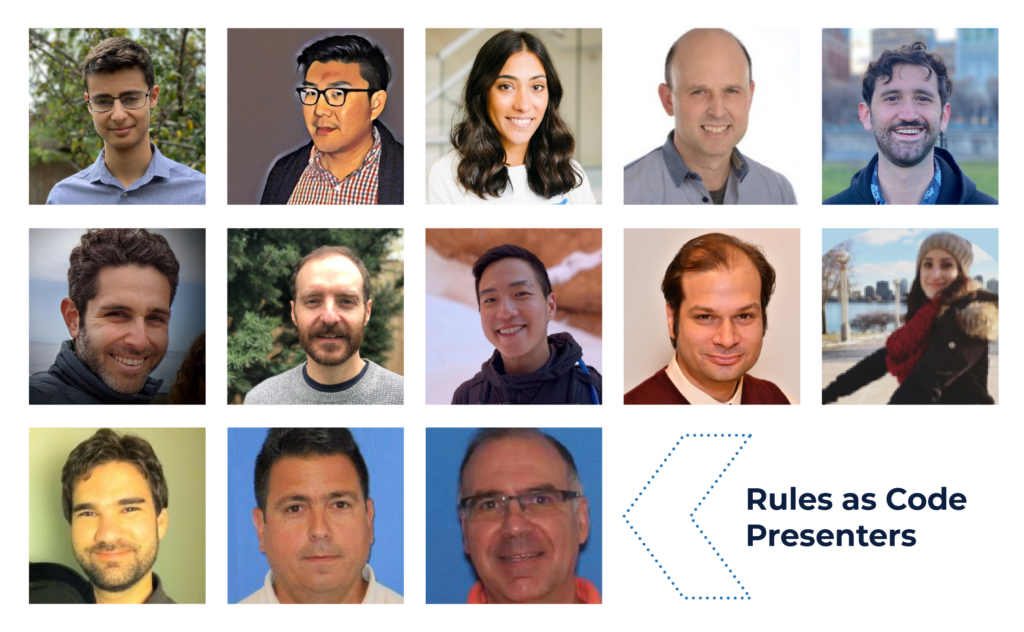 About the Digital Benefits Network 
The Digital Benefits Network at the Beeck Center for Social Impact + Innovation at Georgetown University strives to increase equitable delivery of social safety net benefits to enable millions more people to access and utilize their benefits. The DBN brings a unique focus on how to leverage design, technology, and data to improve implementation and delivery, ensuring that the people who use and deliver public benefits drive the work. The Digital Benefits Network also supports those working to strengthen the social safety net by generating insights, actionable resources, and proven best practices centered on equity principles. We believe the network's strength is its community that fosters trust, peer collaboration, cross-sector connection, and advocacy for benefits delivery and increased economic opportunity.
About the Beeck Center of Social Impact + Innovation at Georgetown University
The Beeck Center for Social Impact + Innovation at Georgetown University brings together students, expert practitioners, and extended networks to work on projects that solve societal challenges using data, design, technology, and policy. Our projects test new ways for public and private institutions to leverage data and analytics, digital technologies, and service design to help more people. The DBN Rules as Code Demo Day attempted to do just that—bring together experts and practitioners to collaborate on improving digital benefits and strengthening the social safety net. 
Shanelle Roberson is a community manager for the Digital Benefits Network. 
Ariel Kennan is the fellow leading the Digital Benefits Network.
Elle Meyers is a MPP candidate at Georgetown Unversity's McCourt School of Public Policy and a student analyst at the Beeck Center for Social Impact + Innovation.