Preparing for Human-Centered Redesign
Social safety net programs such as Medicaid, the Supplemental Nutrition Assistance Program (SNAP), and Temporary Assistance for Needy Families (TANF) are meant to help Americans access supports they need to improve their lives. And yet, complex application and renewal processes and confusing correspondence can often make it harder for residents to secure and keep the benefits for which they're eligible. 
Redesigning applications, renewals, and correspondence to center on the experiences and needs of residents and caseworkers is one of the most impactful things state and local government agencies can do to strengthen social safety net benefit delivery. But for agencies interested in taking on human-centered redesign, it's not always clear where to begin. 
To help agencies take the first step, the Beeck Center for Social Impact + Innovation at Georgetown University and the nonprofit design studio Civilla teamed up to co-author Preparing for Human-Centered Redesign, a readiness guide for state and local public benefits agencies looking to improve applications, renewals, and correspondence. It provides examples of large-scale and smaller-scale changes, checklists of conditions and resources needed for each approach, and guidance and practical resources for getting started with redesign.
If you are a director or staff member at a state or local benefits agency interested in taking a human-centered approach to redesigning applications, renewals, and/or correspondence to be shorter, simpler, and more user-friendly, this guide is for you.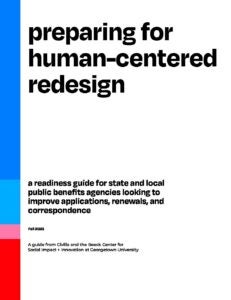 Feel free to reach out to us if you have questions about this guide or want to share how you're thinking about redesign to deliver a more human-centered safety net in your state: beeckcenter@georgetown.edu and hello@civilla.org.