August 14, 2020
Finding Community at a Crossroads: My Summer at the Beeck Center
August 14, 2020 – By Rachel Wilder
I arrived at the Beeck Center two weeks after graduating with my bachelor's degrees in Economics and International Studies from the University of Central Florida. I came to D.C. from Orlando with two suitcases, a cloud of after-college uncertainty, and many questions. I wanted to make a career that let me follow my interests and work for something good – but what should that look like? What paths were possible for someone like me? And with so many potential paths, how could I choose? I suspect these questions are more common than not for students, especially those who are interested in or currently working at the Beeck Center. If that's you, I hope that parts of my experience resonate and serve as encouragement to make the most of the opportunity.
With all my questions, the Beeck Center was the perfect place for me to land. I stepped into the Student Analyst role alongside a team of undergraduate and graduate students with academic backgrounds ranging from mathematics to sociology to public policy. I split my time each day between projects with two different fellows and the communications team, engaging in a fascinating cross section of social impact work.
At its heart, the Beeck Center is a community. My summer there was defined by the connections I made through coffees, seminars, brown bags, and countless casual but important conversations with students, staff, and fellows over laptops in the center's open workspace. The people I met brought big ideas and practical advice from their diverse life experiences, helping me digest and reflect on the questions I had.
This community in turns challenged, taught, and reassured me. We passed an advance copy of Anand Giridharadas's "Winners Take All" around the office and had an ongoing, spirited debate about the role of elites in social change. In one of our weekly Student Analyst workshops, I was excited to map the path from inputs to impacts in a social program for the first time. I worked with and learned from Lisa Hall, whose decades-long dedication to economic justice was modeled in her daily efforts to ensure the value of inclusive community impact investing. Through the Beeck Center I attended gatherings of the Women Innovators & Leaders Network and Women of Color in Community Development, where I connected with still more people who inspired me. Betsy Zeidman discussed her nonlinear career path with the Student Analysts over a brown bag lunch, assuring us that a life of meaningful work is often not conventional or planned from the beginning; I exhaled in relief.
I met too many important mentors and friends that summer to list, so I won't try. I will say that just as we mapped the impact of our projects at the Beeck Center, I see the impact of the Beeck Center on me. The many conversations I had helped me narrow down my goal for my next step to pursuing work in my mom's home country, India. Once I made that decision, the Beeck Center team rallied to give me support and help with connections, including a referral to the Indian nonprofit where I secured my first full-time job.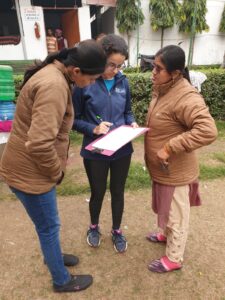 In the fall of 2018, I moved on to what would be an amazing 16 months living and working in Hyderabad at Naandi Foundation. During that time I analyzed data and created presentations for policymakers, designed a qualitative program evaluation, spent a month running around in fields as a facilitator for a girl's sports project, and ate a lot of dosas and biryani. It was often joyful, sometimes a little messy, and always educational. My time at the Beeck Center gave me tools to get more from the opportunity. I felt more comfortable reaching out to and engaging with a range of people in the social sector, from social entrepreneurs to policy officials, because of my exposure to those working in similar roles through the Beeck Center. I also brought with me a useful schema for discerning and evaluating impact in the work I was a part of, remembering that first input-to-impact chart.
Now, back in D.C., I've just started my role as a Project Associate in the Monitoring, Evaluation, and Learning Division at Dexis Consulting Group. I'm excited to be supporting a team that's working to increase the effectiveness and impact of international development, and I'm looking forward to the community I will build and lessons I will learn here. I still have just as many big questions – but from my Beeck Center summer, I know the process of answering them is truly the best part.
Rachel Wilder was a Beeck Center student analyst in the summer of 2018.