Rowan University: A Blue-Collar Soul
Impact in Action: Profiles of Higher Education is a three-part series looking at new partnerships and financial strategies enabling higher education institutions to serve as catalysts for impact-centered economic and workforce development. The series looks at the strategies and tactics schools can implement for greater success and stability.
Part 1, Rowan University: A Blue-Collar Soul, we see how the Glassboro, New Jersey school used a number of new ideas to maintain its mission of serving first-generation students while its enrollment and stature as a research institution was on the rise.
Part 2, Untapped Assets: Stillman College And The Landscape Of HBCUs, shows how Historically Black Colleges and Universities are working with investment and development firms to use real estate assets to generate revenue, catalyze economic development in underserved areas and provide workforce training for their student populations.
Part 3, University of Virginia Wise And Entrepreneurship In Appalachian Virginia, features new partnerships and financial strategies that drive development for underserved communities.
These profiles were produced by the Beeck Center for Social Impact + Innovation at Georgetown University with support from Lumina Foundation. As a collection, they show academic institutions using innovative approaches including:
Using multiple tools to build stronger financial positions including new public financing programs such as Opportunity Zones and New Market Tax Credits, as well as regional programs
Building new and enhanced partnerships with local business and government communities
Creating innovative approaches to online learning
To cope with the unprecedented challenge of a pandemic and the worst economic downturn in nearly a century, these colleges and universities are adopting an expansive mindset that sheds old ideas about the boundaries of an academic institution.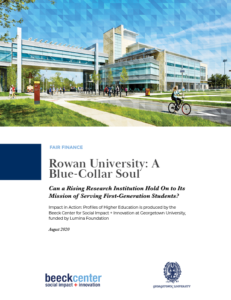 Rowan University: A Blue-Collar Soul, Overview
Rowan University's mission of educating underserved communities while acting as an anchor for impact-oriented community and workforce development has allowed it to generate new sources of revenue.  This has been achieved through a Culture of Growth, Building a Will Toward Change, Charismatic Leadership and Four Development Initiatives without taking on more expenses than necessary and managing its bottom line while building enrollment to secure its status as a rising star among second-tier schools.   
Rowan University has maintained its identity as a blue collar school serving first generation and under-represented students by aligning sources of revenue to create job opportunities for graduates and  strong connections to the community and private sector. 
A 2018 New York Times article about Glassboro, New Jersey carried the headline "New Jersey Town and University Bridge Their Divide, and Both Reap a Reward." This captures the spirit of community partnership and the anchor institution position that Rowan has established for Glassboro's economy. At the same time, Rowan has turned the revenue it generated back to keeping tuition low, increasing its financial aid budget from $5 million to $30 million. As a result, Rowan University finds itself in a much better position than many other second-tier institutions as COVID-19 creates great turmoil and transformations across higher education.
Additional Resources