UVA Wise and Entrepreneurship in Appalachian Virginia
Impact in Action: Profiles of Higher Education is a three-part series looking at new partnerships and financial strategies enabling higher education institutions to serve as catalysts for impact-centered economic and workforce development. The series looks at the strategies and tactics schools can implement for greater success and stability.
Part 1, Rowan University: A Blue-Collar Soul, we see how the Glassboro, New Jersey school used a number of new ideas to maintain its mission of serving first-generation students while its enrollment and stature as a research institution was on the rise.
Part 2, Untapped Assets: Stillman College And The Landscape Of HBCUs, shows how Historically Black Colleges and Universities are working with investment and development firms to use real estate assets to generate revenue, catalyze economic development in underserved areas and provide workforce training for their student populations.
Part 3, University of Virginia Wise And Entrepreneurship In Appalachian Virginia, features new partnerships and financial strategies that drive development for underserved communities.
These profiles were produced by the Beeck Center for Social Impact + Innovation at Georgetown University with support from Lumina Foundation. As a collection, they show academic institutions using innovative approaches including:
Using multiple tools to build stronger financial positions including new public financing programs such as Opportunity Zones and New Market Tax Credits, as well as regional programs
Building new and enhanced partnerships with local business and government communities
Creating innovative approaches to online learning
To cope with the unprecedented challenge of a pandemic and the worst economic downturn in nearly a century, these colleges and universities are adopting an expansive mindset that sheds old ideas about the boundaries of an academic institution.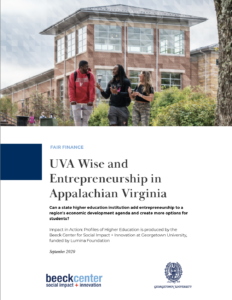 Executive summary
Originally known as the Clinch Valley College of the University of Virginia, UVA Wise was established in 1954 as the first public liberal arts college in the heart of the Appalachian region. By 1966, the college started offering four-year degrees and in 1999, officially changed its name to UVA Wise. As of the Fall semester of 2020, UVA Wise enrolled 2,015-students. This public university is  on the front lines of a transformative change in the economy in Southwest Virginia. Coal mining left environmental and economic scars that the state wants to heal through investment, job training, technology and environmental conservation – and, in the past decade, entrepreneurship.
The communities near UVA Wise are full of people who want to create their own economic opportunities at home – because they don't want to leave it.
UVA Wise's model of community-centered leadership offers valuable lessons for other second and third-tier state institutions that may find themselves by far the best-resourced institutions in their communities
Economic development is a long game – and UVA Wise was established to build deeply embedded growth initiatives over time. The institution has had economic development as part of its mandate from the beginning, and the state has remained supportive of that mission. UVA Wise achieved success because it works within a well-organized vertically integrated system of partnership that includes the Commonwealth of Virginia, state-funded higher-education institutions, regional development initiatives, and private companies. It is anchored by the UVA Office of Community and Economic Development where university staff and faculty have developed critical relationships with state agencies and local institutions to support this economic growth. The qualities endemic to these crucial partnerships are: Trust, Creativity, and Inclusion and are crucial to progress in the region. Regional leaders who are drivers of change emphasized they maintain long-term horizons to build the community connections, education, and political will that supports innovation. The challenge to maintain this focus is daunting when almost 40 percent of the population in rural areas still does not have access to broadband, hampering the development of technology jobs crucial to growth.
According to Shannon Blevins, Associate Vice Chancellor, Economic Development and Engagement at UVA Wise, "If you only focus on, say, industry recruitment and workforce development, you'll have wins. But unless you really take a systems approach to economic development and transformation, those wins will be Band-Aids."
This public university is on the front lines of a transformative change in the economy in Southwest Virginia. Coal mining left environmental and economic scars that the state wants to heal through investment, job training, technology, environmental conservation and, in the past decade, entrepreneurship.
Additional Resources
Don't Get Above Your Raising: Leadership Lessons From An Appalachian Changemaker