October 20, 2022
How Ariel Kennan Uses Human-Centered Design to Improve Access to Public Benefits Across the Country
In 2014, Ariel Kennan landed in New York City government with one goal at the forefront of her mind: increase access to public services by improving their design.
It was a lofty aim. But Kennan was fresh off of a one-year Code for America fellowship where she'd facilitated collaborative software design between two cities—Kansas City, Missouri, and Kansas City, Kansas. The feat had "changed the course of [her] career" and energized her for the work ahead. 
"We were able to achieve a lot of work inside of both of those city halls," Kennan said. "I really saw the power of design applied to the government, and how much space for improvement there was in the design of public services."
She dove headfirst into her role at the New York City Mayor's Office for Economic Opportunity, building out of a team of product experts and a design team to staff the Service Design Studio, which works across agencies to advance the City's use of human-centered methods. By the summer of 2016, Kennan and her team began redesigning ACCESS NYC, an online public screening tool that New Yorkers can use to determine their eligibility for city, state, and federal health and human service benefit programs. In early 2017, the tool relaunched with a simplified 10-step eligibility screening process, plain-language program information, content in seven languages, a location finder, and an accessible, mobile-responsive design. 
"It was my dream to do that work, and it went better than I ever thought possible," Kennan said.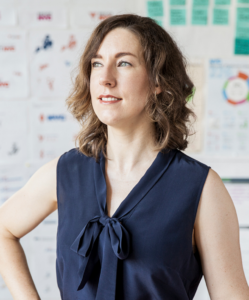 Now, as a fellow at the Beeck Center for Social Impact + Innovation at Georgetown University, Kennan leads the Digital Benefits Network, designing ways to support practitioners working on the social safety net. After more than a year of work on the project, Kennan and her team are launching the Digital Benefits Hub, an open-source reference library for practitioners who are working to improve access to public benefits.
"It's my second nature to design and build things," she said.
For Kennan, designing the Hub felt like a giant step in her work to strengthen the network of public servants delivering social and economic benefits to their communities.
"That is definitely something that I've been able to bring to bear in my work at Beeck Center—not only a human-centered approach to the work, but also the assets and tools that come out of the network," Kennan said.
When Kennan then came to the Digital Benefits Network in February 2021 after serving as the Director of Civic Innovation at Sidewalk Labs, she was eager to use her background in design to bring a human-centered focus to the project.
"We're creating a new type of space. In the early part of this year, we did a lot of research to really set our strategy. What do practitioners need? What do we want to offer? How do we frame the digital benefits network? What should we be doing? Research on all of those things has really helped inform what we're now delivering on, especially hearing directly from individuals and organizations on what was really important to them," Kennan said. 
Last summer, Kennan and her team put together the Rules as Code Demo Day, a convening attended by more than 200 people to share progress and potential in digitizing benefits eligibility rules and to begin addressing how a national approach could be started. For Kennan, collaborative conversations like these are crucial to improving public benefits access throughout the country. 
"The event reminded me that people are listening when we're putting stuff out, and they're interested and engaged, and it's unique," she said. "It doesn't feel like other content that's been put on in this space."
For Kennan, centering equity in conversations focused on technology and service delivery is especially crucial, and a desire to increase accessibility within communities has been her career compass from the beginning. At Parsons School of Design, Kennan graduated from their interdisciplinary Integrated Design program, with her senior thesis focusing on designing technology for museums that drew in larger, more diverse audiences. 
"We can have conversations around technology and human-centered design and procurement. We can bring a lens of ethics and equity to it which can be left out of the technology conversation in the space; vendors do not often talk about ethics or privacy or racial equity. And I think we not only could play that role, but I think, have a real responsibility to play that role, and so far it's working pretty well," Kennan said.
Kennan's work on the Digital Benefits Network is far from over. After the launch of the Digital Benefits Hub, Kennan and team are growing communities of practice to build strong support networks between practitioners who work to deliver digital benefits. 
Looking forward, Kennan said she hopes to see more people join her in this sphere, particularly students and young professionals from all backgrounds and interests.
"We need multiple disciplines and expertise areas to go after these problems," Kennan emphasized. "Just the designers are not going to solve it. Just the lawyers are not going to solve it. Just the policymakers are not going to solve it. We really need more people who are bringing their ideas to the table."